ORANGE COUNTY DISTRICT ATTORNEY PRESS RELEASE
Date: April 12, 2016
OCDA'S 8th ANNUAL VICTIMS' RIGHTS RALLY KICKED OFF VICTIMS' RIGHTS WEEK IN HONOR OF CRIME VICTIMS AND SURVIVORS
SANTA ANA, Calif. – The Orange County District Attorney (OCDA) Tony Rackauckas hosted the 8th Annual Victims' Rights Rally yesterday, at the beginning of Victims' Rights Week in remembrance of murdered victims, in celebration of surviving victims, and in honor of victims' rights. Hundreds of victims, family, friends, law enforcement, and community leaders congregated at the Orange County Hall of Administration and laid flowers at the foot of a memorial wreath and held a candlelight vigil at the Rally to honor and celebrate the lives of murdered and surviving victims.
The Orange County Victims' Rights event was established in 2009 after decades of legal efforts to secure the rights of crime victims. In 1990, Proposition 115 increased defendant sentences and decreased the number of times a victim had to testify. In 1996, Megan's Law required sex offender registration and gave parents and the community access to sex offender residence addresses in their neighborhoods. In 2000, Proposition 21 increased the punishments for serious and dangerous gang crimes. In 2004, Proposition 69 required felony arrestees to submit a DNA sample and Proposition 66, which would have allowed the release of dangerous third-strikers, was defeated. In 2006, Proposition 83, or Jessica's Law, instituted mandatory 15 years to life sentences for certain serious sex offenses against children. In 2008, Marsy's Law codified victims' rights into the California Constitution.
"Prime Minister Winston Churchill who helped save our freedom by fighting the Nazis said, 'If you are going through hell, keep going.' We will always outnumber the bad guys, and we will keep going in the name of our innocent crime victims," stated Orange County District Attorney Tony Rackauckas."We dedicate our public life and service to all those harmed by crime, to bring justice, to fight your fight, and to defend your rights. Every year, we will work together to assert our rights and protect our community."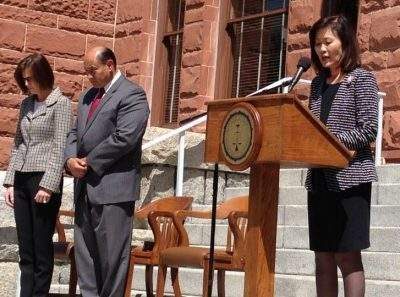 The format of the event was different this year and did not include a march. It was held at the Hall of Administration at a more accommodating time yesterday evening, and kicked off Victims' Rights Week. The private event, which started at 5:00 p.m., had a more intimate feel this year and reflected the solemnity of the event. All victims were welcome to come together in a respectful setting. The Rally included a Presentation of the Colors by the Santa Ana Police Department (SAPD) Honor Guard, Pledge of Allegiance by SAPD Chief Carlos Rojas, National Anthem by Deputy District Attorney Anna Chinowth, Moment of Silence and remarks by Orange County Board of Supervisors Chairwoman Lisa Bartlett, presentation of proclamation and a Board resolution by the Orange County Board of Supervisors to Community Service Programs, Inc., Marsy's Law updates by Dr. Henry Nicholas III, and a performance of the John Lennon song "Imagine" by The Woodshedders , a quartet made up of the OC School of the Arts students.
The keynote speakers were Janelle Weinberg, mother of DUI collision victim Ariel Johnson, and Jackie S., a survivor of sexual assault.
Janelle Weinberg
Janelle Weinberg is the mother of 21-year-old Ariel Johnson, who was killed in a DUI collision in March 2013. She was a passenger in a car being driven by 21-year-old Shauna Ahyen, who was driving under the influence. Ahyen pleaded guilty to vehicular manslaughter with gross negligence while intoxicated and driving with a blood alcohol content of .08 percent or more causing bodily injury and was sentenced to six years and eight months in state prison in 2014.
During the early morning hours of March 10, 2013, Ariel Johnson and passenger John Doe were being driven home from a party in Placentia by Ahyen, who had refused an offer for a paid cab ride home and was driving under the influence of alcohol. Ariel Johnson was lying down near John Doe who was seated in the back seat of the vehicle when Ahyen drove over a curb, hit a telephone pole, and crashed into a building on Brookhurst Street in Garden Grove. John Doe was taken to the hospital and treated for a broken arm and clavicle. Ariel Johnson was pronounced dead at the scene.
At the Rally yesterday, Janelle told the crowd, "This is the third speech I've given in the past few weeks, the first was in Garden Grove, the scene where my daughter took her last breath, the second was in Long Beach, where my daughter took her first breath, and today, I'm speaking in the city where the young woman who killed my daughter was sentenced, handcuffed, and taken into custody. The significance of this is not lost on me." She continued on and described the impact of losing her daughter and what an impact it had on her family and said, "Her brother was her other half, a part of him died with her. And now my husband will never get to walk her down the aisle, and I will never get to help her pick out a wedding dress or hold her babies, as every loving mother should have the right to do."
Jackie S.
Jackie S. is a survivor of sexual assault and victim of Thomas Johnson, who pleaded guilty to attacking, torturing, and sexually assaulting Jackie. He was sentenced to 34 years to life in state prison in 2015.
Johnson, then 43 years old, lived in a Huntington Beach apartment complex where Jackie S. lived, but did not know the defendant. In the early morning hours on Dec. 22, 2013, Johnson entered Jackie S.'s home. The defendant physically beat the victim using a hammer and struck her multiple times across her body and forcibly raped the victim with a foreign object. At approximately 3:30 a.m., the defendant called 911 and reported the attack.
Jackie S. was taken to a nearby hospital where she suffered a broken jaw in two places, bleeding in the brain, broken bones in her face and behind her ear, permanent hearing loss, lacerations on her face, facial fractures, and air trapped around her heart and neck. She also suffered a stroke two days after the attack and required multiple various surgeries.
At the Rally yesterday evening, Jackie S. told the crowd, "I was always a cheerful and optimistic person. This character trait has served me in good stead after my injuries. Even in the hospital, my main focus was getting well." She continued on to say, "It is also important understand that you will have good days and other days that will be extremely challenging. That's okay, it will get better. Practice gratitude and celebrate the little victories each and every day. Realize that it may be difficult to see your progress. In many cases you won't notice until someone brings it to your attention."
Co-Sponsors and Donors
The OCDA would like to extend special thanks to the Orange County Sheriff's Department (OCSD) and SAPD for their time, service, and support at the 2016 Victims' Rights Rally.
For their contributions, the OCDA would also like to thank OCSD, SAPD, the Association of Orange County Deputy District Attorneys – Civic Action Committee, Orange County District Attorney Investigators Association, Community Service Programs, Inc., the Orange County Board of Supervisors, Dr. Henry Nicholas III, Mike Schroeder, Susan Kang Schroeder, and Starbucks at 17th Street and Grand Avenue. This private event was hosted at no extra cost to the taxpayer.
###
TONY RACKAUCKAS, District Attorney
Susan Kang Schroeder, Chief of Staff
Office: 714-347-8408
Cell: 714-292-2718