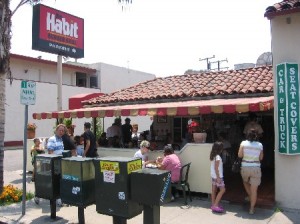 Santa Barbara's iconic The Habit Burger Grill – known for its juicy 'charburgers' — said it plans to open its first Orange County restaurant near the MainPlace mall, at the City Place in Santa Ana, which is located at 2777 N. Main St., according to the Orange County Register.
Apparently the restaurant may be open by December.
These burgers are supposed to be better tasting than In N' Out burgers!
The first Habit burger stand opened more than 30 years ago in Goleta, a small beach haven near Santa Barbara. The Habit now operates four units in the Santa Barbara region including one on State Street.
I look forward to these burgers!  Congratulations to the City Place for picking up such a great restaurant!  Click here to see a list of the other restaurants and stores are located at the City Place.