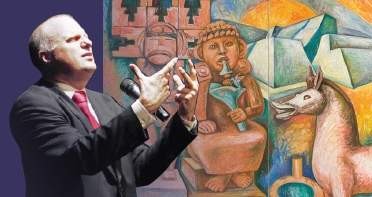 FOR IMMEDIATE RELEASE
Contact: Victor Payan, Latino Audience Engagement Specialist, 714.567.3645, VPayan@bowers.org
Gregorio Luke Presents "Murals Under The Stars" at Bowers Aug. 28
Mexican Master Raul Anguiano's Centennial Celebrated With Special Evening Event
(Santa Ana, CA) In celebration of the centennial of renowned Mexican muralist Raul Anguiano, the Bowers Museum is holding a special "Murals Under the Stars" presentation by internationally acclaimed speaker and Smithsonian scholar, Gregorio Luke, on Friday, August 28 at 8 pm.
Luke will provide an informative and inspiring discussion of Raul Anguiano's life and work while projecting the master muralist's work onto a giant outdoor screen in the Bowers' romantic mission-style courtyard. This promises to be a magical evening that will transplant the audience to Mexico as if seeing Anguiano's celebrated murals in their original settings.
Raul Anguiano is Mexico's last great muralist. His work includes over 100 exhibitions worldwide and more than 20 murals, mostly in México and the United States. Anguiano is famous for his paintings of indigenous peoples and for denouncing the destruction of the environment. The Bowers Museum is the only institution in the United States that has two of Anguiano's murals, which were commissioned by the museum and one of which was painted onsite
Gregorio Luke has presented over 1,000 lectures in institutions such as the Library of Congress, the Florence Biennale, and México's Palacio de Bellas Artes. Elena Poniatowksa, the Grande Dame of Mexican literature, says, "Gregorio Luke delivers the most extraordinary presentations you are likely to see anywhere in the world."
The Bowers courtyard opens at 6:30 pm. Art Workshop at 7 pm. Presentation starts at 8 pm. Small bites and cash bar available. There will be a drawing for an Anguiano print and book.
Founded in 1936, the Bowers Museum is one of California's finest and Orange County's largest museums. Situated in the heart of Orange County, the Bowers Museum enriches lives through the world's finest arts and cultures.
The Bowers Museum is located at the corner of 20th & Main Streets in Santa Ana, just one minute from the 5 freeway at the Main St. South exit, and just minutes from the 57, 55 and 22 freeways.
Admission is $12 General, $8 for Students and Members. Purchase tickets online at www.bowers.org or onsite at the Visitor Services Desk. For more information, call 714.567.3677, e-mail programs@bowers.org or visit www.bowers.org. Tickets are non-refundable. All proceeds benefit Bowers Museum Educational Programming. The event is sponsored by Brigita Anguiano, The Collectors Council, The James Irvine Foundation, Kathleen Barrutia, & The Latino Cultural Arts Council.
###