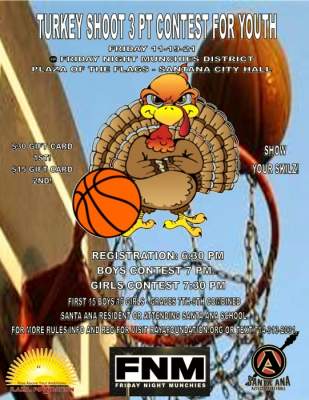 The Raya Foundation is hosting a free Turkey Shoot 3 PT shooting contest for Santa Ana boys & girls 6-8th grade this Friday, Nov. 19, 2021, at the Friday Night Munchies District at the Santa Ana City Hall Plaza. Registration starts at 6:30 p.m. The boy's shooting contest is set for 7 p.m. The girl's shooting contest will start at 7:30 p.m.
Prizes include a $30 gift card for first place and a $15 gift card for second place.
Participants must be enrolled in Santa Ana schools or reside in Santa Ana. Participants will include the first 15 boys and girls to register, grades 6-8.
Parking will be available at the corner of Ross & Civic center, across from library , walk to city hall plaza.
Click here to read the Turkey Shoot rules. Click here to download the waiver form that your child will need in order to participate in this event.
See rayafoundation.org for more info or text 714-313-2031.
The Rise Above Your Ambitions (RAYA) Foundation was founded by Pearl and Leon Raya with the purpose to support Santa Ana youth to strive and thrive to become productive adults.