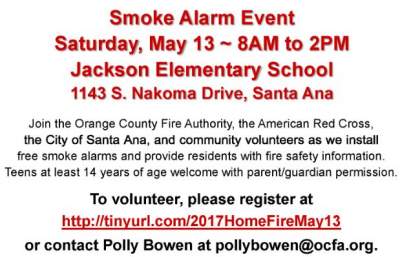 City of Santa Ana
Community: Smoke Alarm Installation Event This Saturday May 13, 2017 / Evento de Instalaciones de Detectores de Humo Este sábado, 13 de mayo de 2017
SANTA ANA – Join the Orange County Fire Authority (OCFA), the American Red Cross, the City of Santa Ana, and community volunteers as we install free smoke alarms and provide residents with fire safety information. Teens at least 14 years of age are welcome with parent/guardian permission.
DATE:
Saturday, May 13
TIME:
8:00 am to 2:00pm
LOCATION:
1143 S Nakoma Drive, Santa Ana, CA 92704
To volunteer, please register here or contact Polly Bowen at (949) 347-2256.
—————————————————
SANTA ANA – Únase a la Autoridad de Incendios del Condado de Orange (OCFA), la Cruz Roja Americana, la ciudad de Santa Ana y voluntarios de la comunidad para instalar detectores de humo gratis y asistir a los residentes con información de seguridad para momentos de emergencia. Invitamos a voluntarios adolescentes de por lo menos 14 años de edad. Menores de 18 años de edad necesitaran permiso de uno de sus padres o tutor.
FECHA:
Sábado, 13 de mayo
HORA:
8:00am a 2:00pm
UBICACIÓN:
Jackson Elementary School
1143 S Nakoma Drive, Santa Ana, CA 92704
Para ser voluntario, por favor regístrese aqui o póngase en contacto con Jocelyn Casillas en (714) 567-3236.