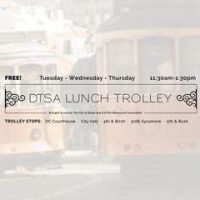 City of Santa Ana, Downtown Orange County
Community: Free DTSA Lunch Trolley Set to Begin on Tuesday
The City of Santa Ana and the Downtown Santa Ana (DTSA) Restaurant Association are happy to announce the launch of the DTSA Lunch Trolley on Tuesday, June 7th. The free trolley service will operate Tuesdays, Wednesdays, and Thursdays from 11:30 am-1:30 pm.
The trolley will provide an alternative transportation option for Civic Center visitors and staff who would like to explore the many dining options downtown, without having to drive or worry about looking for parking. The trolley will run in a continuous loop approximately every 15 minutes.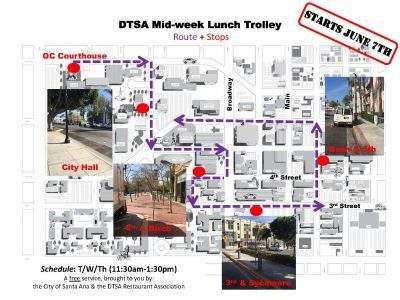 The trolley will make stops at the Orange County Courthouse, City Hall (on Ross Street, next to the Ross Annex), and downtown (4th and Birch; 3rd and Sycamore; and Bush and 5th).