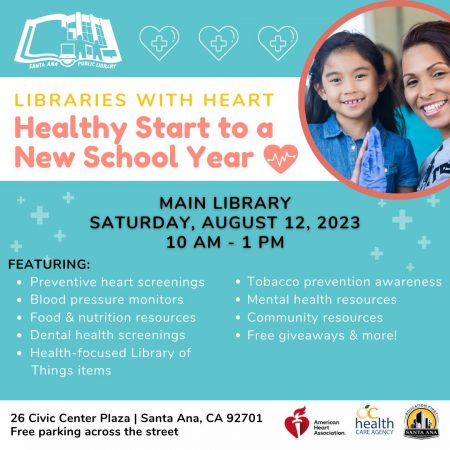 In partnership with the American Heart Association and OC Health Care Agency, the Santa Ana Public Library will host an important community resource with a Health Fair at their Main Library on Saturday, August 12, 2023, from 10 a.m. to 1 p.m. at 26 Civic Center Plaza in Santa Ana. This event is free and open to all ages.
This free health fair will feature:
Ppreventive heart screenings
Health-focused Library of Things items
Nutrition resources
Dental screenings
And more!
The Santa Ana Public Library (SAPL) will also showcase new blood pressure kits donated by the American Heart Association during a health resource fair on Saturday, Aug. 12.
As the American Heart Association's first Libraries with Heart partner in Orange County, SAPL is proud to offer support to community members focusing on their health journey. The blood pressure kits will be available for the public to check out as part of its Library of Things collection.
"Public Libraries are important community partners when it comes to improving health literacy," Library Services Director Brian Sternberg said. "The Santa Ana Public Library is proud to partner with the American Heart Association to make health equity a priority in Santa Ana."
The health resource fair, called Libraries with Heart: A Healthy Start to a New School Year, is offered in partnership with the American Heart Association and the Orange County Health Care Agency. The health fair will take place from 10 a.m. to 1 p.m. at the Santa Ana Public Library, 26 Civic Center Plaza, Santa Ana. The event is free and open to all ages.
By making life-saving devices, like blood pressure monitors, more accessible to the public, SAPL continues to expand its efforts to improve the lives of individuals, families and the community as a whole.
According to the American Heart Association, Nearly half of U.S. adults have high blood pressure, a major risk factor for heart attacks, strokes, and other health issues, including dementia and kidney disease. In Orange County, 26.8% of adults have been diagnosed with high blood pressure. More than two-thirds of people with uncontrolled high blood pressure are impacted by structural inequities that limit their access to health care.
"There is a high prevalence of high blood pressure, but most individuals don't know they have it," said American Heart Association OC Board President, Pranav M. Patel, MD., Chief, Division of Cardiology, UC Irvine. "By having blood pressure kits accessible to library patrons, we are meeting people where they are with resources to encourage regular blood pressure checks, better hypertension management and healthy habits."
Health Fair Parking
Parking for the health fair is available directly across the street from the Main Library at Civic Center Drive and Van Ness Avenue. This parking is only available on Saturdays for library programs and patrons.