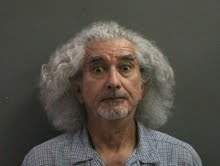 Robert Ruben Ornelas, a former SAUSD school teacher was sentenced Monday to 190 years in federal prison for sexually assaulting two girls during trips to the Philippines, according to the O.C. Register.
Fortunately U.S. District Judge Cormac J. Carney dropped the hammer on Ornelas, giving him the maximum punishment available.
Orenals was found guilty of seven felony counts, including having illicit sexual conduct in a foreign country and producing child pornography.
Ornelas taught in the Santa Ana Unified School District from 1992 to 2003 – and if memory serves correct he taught at Santa Ana High School.
Ornelas sexually assaulted two girls who were as young as 8 years old, during three trips to the Philippines from 2006 to 2012.
The pig actually filmed these crimes and brought the film footage back with him to the U.S. That proved to be his undoing as a relative found the child porn on Ornelas' computer in 2013 – and turned him in to the Feds.
The Prosecutors asked the Judge to give Ornelas the maximum sentence as they figured this was the only way to stop him from attacking more children in the future.
Ornelas will now predictably have a heck of a time in prison.