Carlos "CJ" Salcito Sales Jr., 25, of Santa Ana, a former, part-time baseball coach at Segerstrom High School in Santa Ana, has been arrested on suspicion of sending sexually explicit text messages to a Huntington Beach boy, according to the O.C. Register.
Sales was arrested on Friday by Huntington Beach police on charges of attempted lewd and lascivious conduct and for contacting a minor with intent to commit a sexual offense.
Sales was booked at the Huntington Beach Jail and released on a $100,000 bond, according to the Huntington Beach Police Department.
There is no record on file with Orange County Superior Court of the suspect having an attorney.
Two boys, ages 15 and 16, are the potential victims in this case.
The parents of one of the boys told the Huntington Beach police that they found sexually explicit text messages on their son's cell phone that had been exchanged with Sales.
Sales is suspect of requesting nude photographs from the boy and directing the boy to participate in lewd acts.
Sales is also suspected of having sent nude photographs to the other boy.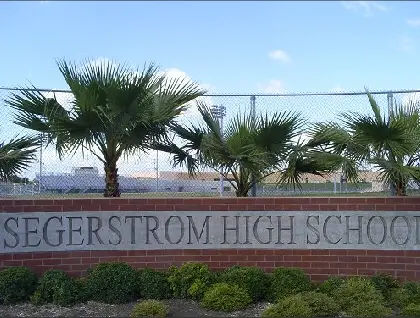 When Sales was arrested he was employed as an assistant baseball coach at Segerstrom High School.
Segerstrom High School has employed Sales at the school on a part-time basis since 2013, but as of Monday he no longer works for the Santa Ana Unified School District.
The police are trying to determine if there are additional victims.
Anyone with information can call the Huntington Beach Police Information Hotline at 714 375-5066. Anonymous tips can be called in to the Orange County Crime Stoppers at 1-855-TIP-OCCS (855-847-6227) or click on the Submit a Crime Tip link on the Huntington Beach Police Department's Facebook page.