The SAPD is searching for a woman who allegedly ran a red light early Wednesday morning before slamming her car into a man in a crosswalk and then fleeing, according to the O.C. Register.
A woman in a black, four-door BMW with dealer plates was seen by witnesses at around 2:15 a.m. driving north on South Bristol St. before she ran a red light at West Central Ave., while she was in the left lane, according to the SAPD.
As the woman ran the red light she drove into an unidentified 26-year-old man who was walking across Bristol, in the crosswalk.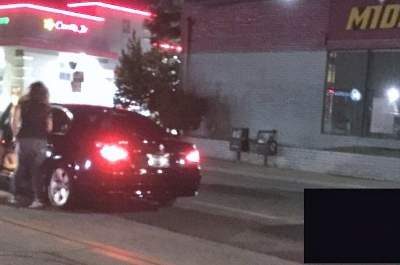 When the accident occurred, the suspect left her vehicle and walked up to the prone victim. A witness on a skateboard, who has not been identified, ran up to the accident scene and instructed the suspect not to touch the victim – then the skateboarder took off to the nearby South Coast Global Medical Center to get help.
However once the witness left the woman climbed back into her BMW and took off. Another witness followed her as she proceeded northbound on South Bristol St. to eastbound West Warner Ave., but the woman sped off and the witness was unable to keep sight of her vehicle.
The victim ended up at the Orange County Global Medical Center with injuries described as serious.
Yet another witness actually took a photo of the suspect before she took off. (See the picture above).
The SAPD is asking anyone with information about her to please call the police department's traffic bureau at 714-245-8200. Anonymous tips can also be given to the Orange County Crime Stoppers at 1-855-TIP-OCCS.