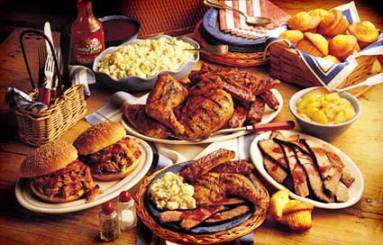 Famous Dave's Legendary Pit Bar-B-Que® Re-launches Catering Menu
Dave Revamps Catering Line and Introduces a Saustastic New Menu, Just in Time for the Holidays
ORANGE COUNTY, Calif. – Nov 19, 2012 — Famous Dave's Legendary Pit Bar-B-Que® is re-launching its entire catering menu beginning Nov. 19., introducing a fresh new menu look and catering options that include Family Style Feasts and Pig Out Party Packs. For those looking for more than just a feast, Famous Dave's catering offerings also come complete with add on options such as a slab of ribs, whole barbequed chicken, and several other meats and side dishes, customizable to your party.
Just in time for the holidays, Famous Dave's delicious catering dishes are a great option for family gatherings, holiday parties, or an alternative to a traditional turkey or roast beef dinner. Famous Dave's menu offers a hearty roundup of award-winning ribs, hickory-smoked meats, and other BBQ favorites, such as St. Louis-Style Ribs brushed with Rich & Sassy® Sauce, Texas Beef Brisket, Georgia Chopped Pork, Country-Roasted Chicken, Wilbur Beans, Creamy Coleslaw and Dave's Famous Bread Pudding.
The catering re-launch follows the grand opening of Famous Dave's second Orange County restaurant, located at 3608 S. Bristol in Santa Ana, CA. The new catering menu will apply to the following Famous Dave's BBQ locations in Orange County: 2214 N Tustin St., Orange and 3608 S. Bristol, Santa Ana.
For more information on Famous Dave's BBQ visit www.famousdaves.com or call (800) 446-9999 for your catering needs.
About Famous Dave's BBQ
Famous Dave's of America, Inc. is proud to be North America's most popular and best-selling BBQ and has won more than 600 awards for everything from Best Ribs to Best BBQ Sauce to Top Barbeque Restaurant Franchise. Famous Dave's is passionate about BBQ excellence, slow-cooking the BBQ on-site for hours over smoldering hickory wood in authentic pit smokers. The menu features scratch-recipe cookin' and in addition to the award-winning barbequed and grilled meats and chicken, guests can enjoy a large selection of salads, side items and sandwiches, and home-baked desserts. For more information, visit www.famousdaves.com.
# # #
www.famousdaves.com