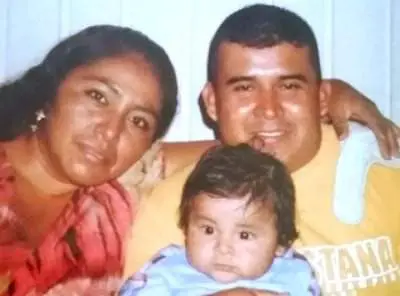 Modesto Tapia-Clara, the gardener whose body was found in Santa Ana's Centennial Park this week, was from Mexico. He was here in the U.S. working to send money back home to his wife Erica and his 1-year old son, Modesto Tadeo.  Sadly his passing has left his family in a bad way.
The news got worse today as the baby that his wife Erica delivered prematurely the same day that Modesto died, has passed away, according to an update posted on the GoFundMe site that was set up this week to help this family to pay for the funeral costs involved in sending Modesto's body back to Mexico.  The family needs to raise about $5K to send Modesto's body back to Mexico.  So far they have raised over $400.
Modesto's uncle is organizing a kermés (food fundraiser) this Sunday at 17465 Koledo Lane, Huntington Beach, CA 92647 starting at 9 a.m. The main cross streets are Beach Blvd. and Slater Ave. Come on down and enjoy some delicious food in support of the Tapia family.
Modesto's wife Erica will also need help to pay for her medical bills.
If you have any questions you may email Modesto's cousin Sandra at this link.