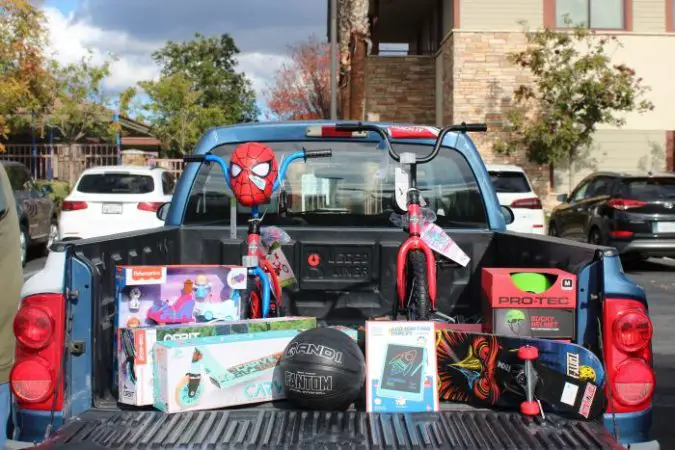 Tustin, California — On Monday, December 12, 2022, Families and Communities Together (FaCT) hosted a Holiday Bike and Toy Drive Distribution at Tustin Family Campus for 16 FaCT Family Resource Centers (FRCs) in Orange County. Every year, Trish Hurley, Orange County resident, and Sean Canova, owner of Tzoneoc Fitness & Pilates, generously donate bikes to families with children that utilize the FaCT FRCs.
"Sean and I are always so honored to donate bikes to Orange County families during the holiday season," Trish Hurley said. "We have the best memories of riding our bikes around our communities and having fun outdoors."
This year, the drive also received donated helmets from the 4Shayj Foundation, an organization focused on helmet safety education for children, based in Indio, California. The organization was Shaun and Ginger Clark founded the organization in May 2015 after the accidental death of their 19-year-old son, Shaun Jr. (also known as ShayJ).
The FaCT platform also sought donations from Orange County businesses. Thank you to Index Fund Advisors, Charitable Ventures and PropStream for hosting toy drives this holiday season.
The FaCT team and donors were joined by our Family Resource Center (FRC) staff who chose from the 80 bikes, 42 scooters, helmets, sports balls and toys. All 16 FaCT Family Resource Centers will hold holiday events this month for families in their communities to receive these gifts. To find your local FRC, visit www.factoc.org.
About FaCT:
Families and Communities Together (FaCT) is a County of Orange Social Services Agency public private partnership. Since 1994, FaCT has provided support services to children and families through community-based collaborative operating Family Resource Centers (FRCs). Our mission is to identify and promote promising and best practices, train, fund and advocate for FaCT-supported FRCs to be Orange County's community-based platform for prevention activities and family support services.