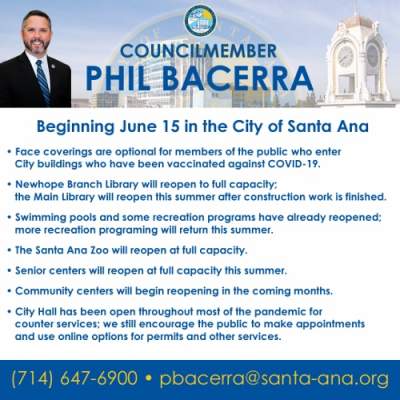 SANTA ANA, Calif. – City Manager Kristine Ridge has signed an executive order ending the City's face covering requirement effective today, June 15, in conjunction with the lifting of most statewide mask requirements and other pandemic-related restrictions.

The Governor ordered the California economy to reopen today and the resumption of most normal business operations and activities. The City of Santa Ana will continue to follow all state, federal and county health rules related to COVID-19. The California Department of Public Health still requires the use of face coverings by vaccinated individuals in some circumstances. Face coverings are required for unvaccinated individuals in indoor public settings and businesses, with some exemptions.
 
Read more about the State's mask rules and the State's reopening guidelines.

Santa Ana City Hall has remained open throughout most of the pandemic, and the City has been providing services such as to-go senior meals, curbside pickup at the libraries, more online options, and virtual participation at public meetings. The City will now resume more services, update its pandemic safety measures, and begin reopening more facilities. Among the changes:
 
City Hall has been open by appointment throughout most of the pandemic; we still encourage the public to make appointments and use online options for permits and other services.
Appointments are not required for the cashier counter.
Plexiglass shields will remain in place at City facilities as an added protection for the public and staff.
Members of the public who have NOT been vaccinated against COVID-19 are still required to wear face masks when entering City buildings.
Santa Ana City Council meetings allow both in-person and virtual participation.
Swimming pools have already reopened and some recreation programs have started; more recreation programming will return this summer.
The Santa Ana Zoo has been open and will now operate at full capacity.
The Newhope Branch Library has been open and will now operate at full capacity.
The Main Library will reopen this summer after construction work is finished.
Senior centers will reopen at full capacity this summer.
Community centers will begin reopening in the coming months.
While we are excited to see our economy reopen and our local businesses and residents thrive again, the COVID-19 pandemic is still not over. To allow the economy to remain open, to avoid another COVID-19 surge, and to protect public health, the City of Santa Ana encourages everyone age 12 or older to get vaccinated and follow COVID-19 public health guidance issued by the U.S. Centers for Disease Control and Prevention (CDC), the California Department of Public Health (CDPH), and the County of Orange Health Care Agency.

Learn more about how to get the COVID-19 vaccine and find other pandemic news and resources at www.santa-ana.org/covid19.

See the City Manager's executive order ending the local mask requirement here.
Translations:
State of California guidance on face coverings: https://bit.ly/3xkZFff
CDC guidance for vaccinated individuals: https://bit.ly/3gp8cYW
City of Santa Ana COVID-19 Resources