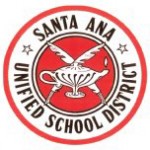 FOR IMMEDIATE RELEASE
Contacts: David Valentin, Chief of School Police, 714-558-5829 and Deidra Powell, Chief Communications Officer, 714-558-5555
SAUSD's Davis and Diamond Elementary School GRIP Program Celebrates Student Success in School and Staying Out of Gangs
At-Risk Students in GRIP Program Selected for Thanksgiving Holiday Incentives
SANTA ANA, CA — November 14, 2012 – Santa Ana Unified School District's Davis and Diamond Elementary Schools will be two of multiple school sites in Orange County to host turkey dinner giveaways as part of the Orange County Gang Reduction Intervention Partnership (OC GRIP) Wednesday, November 14, 2012 at 4:00 p.m. Turkey dinners will be distributed to students who succeeded in a challenge to improve their attendance, behavior, and grades in time for Thanksgiving, while continuing their pledge not to get involved with gangs.
"This annual Thanksgiving giveaway demonstrates the commitment of our students, school District and business partners to making the Santa Ana GRIP program successful," said David Valentin, Santa Ana School Police Chief. "Although the educational component and community outreach are essential parts of this program, it's individual student dedication and family support that makes Santa Ana GRIP a success," explains Valentin. "Through a multi-disciplinary effort of the school district's Pupil Support Services Division, school principals, teachers, private sponsors and our law enforcement partners, GRIP represents hope in preventing our children from joining gangs, excelling in school and becoming our community leaders," added Chief Valentin.
GRIP was created to keep students in school and out of gangs. The program is administered by the Santa Ana Unified School Police Department in conjunction with the Orange County District Attorney's Office (OCDA), Orange County Probation Department, and Santa Ana Police Department (SAPD).
Through the GRIP initiative, partners identify at-risk youth in Santa Ana and work to increase their school attendance and discourage participation in gang activity. Santa Ana GRIP partners collaborate to host informational parent, student, and faculty meetings, conduct curfew sweeps in high-volume gang activity areas, and perform truancy sweeps at the homes of students with excessive absences.
Media interested in attending the giveaway at Davis or Diamond Elementary Schools, may contact Deidra Powell, Chief Communications Officer for the Santa Ana Unified School District, at (714) 558-5555. Davis Elementary is located at 1405 French Street and Diamond Elementary is located at 1450 S. Center Street, both in the city of Santa Ana.
###