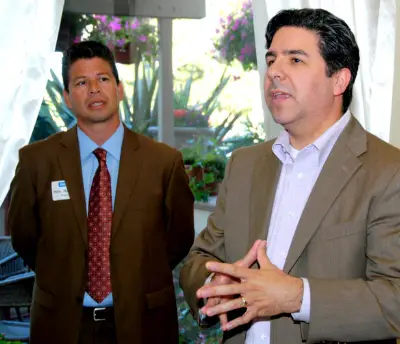 Funny how history has a habit of repeating itself.  A few years ago a Santa Ana Councilman got a job as an Orange County middle manager.  He proceeded to get promoted repeatedly, despite an obvious lack of talent.  And eventually he was arrested for allegations of sexual harassment and sex crimes, as well as public theft.  His name was Carlos Bustamante.
Bustamante was recruited to the County of Orange, reportedly, by Assistant OC CEO Rob Richardson, who is a Trustee on the Santa Ana School Board.  Both are Republicans as well.
Now we come to find out that Councilman Roman Reyna, who has even less education than Bustamante did, with naught but a high school diploma, has scored a job as a Case Manager at the Orange County Department of Education, according to Reyna's city bio.
Did Reyna get this job, as Bustamante got his County job, by virtue of political connections?  The Superintendent of the Orange County Department of Education is none other than Al Mijares, the former Superintendent of the SAUSD.  And Reyna is a former SAUSD Trustee.
And don't forget that Bustamante and Reyna both worked last year in support of their friend, David Benavides, and his failed mayoral campaign.  The three of them have been friends for many years.
It seems like business as usual is occurring at the County of Orange.  Let's hope this time the lucky Councilman in question, Reyna, doesn't follow in Bustamante's sordid footsteps.
But according to numerous inside sources Reyna was allegedly fired from his last job, at the YMCA of Santa Ana.  If true, why was he fired?  And did the O.C. Department of Education do their due diligence?
You have to wonder how much they are paying Reyna…
I have already asked two Orange County Department of Education Trustees to investigate this matter.
UPDATE: The verdicts are in, regarding the City of Bell's corruption case against their Mayor and Council Members. Check out what the defense lawyer for the Bell Mayor had to say about his client, as per the L.A. Times:
The attorney for Hernandez, the city's mayor at the time of the arrests, said his client had only a grade-school education, was known more for his heart than his intellect, and was, perhaps, not overly "scholarly."
Is it just me or does that like an exact description of Councilman Reyna?