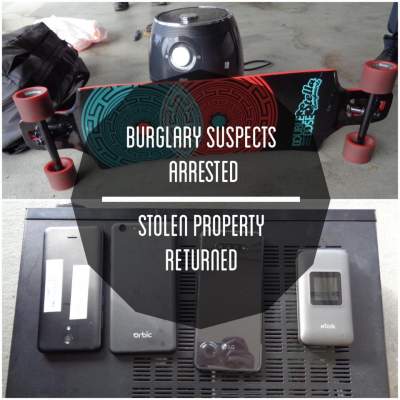 On Tuesday, at approximately 5 a.m., a witness observed and reported two subjects forcing open a garage door at a complex in Costa Mesa. The suspects were described as wearing dark clothing and hooded sweatshirts.
As Costa Mesa police officers arrived, they saw a black Dodge station wagon leaving the complex. Officers stopped the vehicle, which was occupied by two males wearing dark sweatshirts.
The person who reported the burglary returned to the scene and identified one of the suspects and the vehicle.
A search of the vehicle revealed stolen property taken from the garage. Officers recovered a skateboard, electronic devices, a bank check, photographs, and other personal effects.
Juan Zeledon, 37, Anaheim, and Raymond Gonzales, 36, Garden Grove, were then arrested and booked for burglary.
The personal items were identified and returned to the rightful owners.