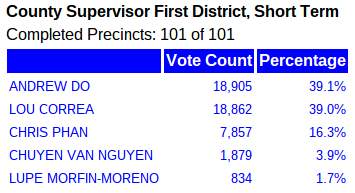 The final votes have been tallied and apparently Andrew Do beat Lou Correa by 43 votes in the First District Special Election, according to the Orange County Registrar of Voters.
I suppose there might be a recount, but why bother?  This election was lost when Correa, for whatever reason, did not attack Do.  Instead Correa spent a small fortune on mailers that touted his public safety record.  It was reminiscent of Jose Solorio's failed campaign last year against Do's old boss, Janet Nguyen, in the race for the 34th State Senate District.
That Do was able to win despite a three-way Viet vote split is a testament to the cheating I am sure went on in his campaign.  One source told me today that Do's people were involved in using local Buddhist temples to garner votes.  Two of his allies were also fired from the Westminster Orange County office that Nguyen opened up so she could pander to Little Saigon residents, after they were caught promoting Do during work hours.
Santa Ana is now going to be represented by Do on the Orange County Board of Supervisors, Nguyen in the 34th State Senate District and Tom Daly in the 69th Assembly District.  U.S. Rep. Loretta Sanchez is the only Hispanic legislator left in Central Orange County.
You have to wonder if Santa Ana Mayor Miguel Pulido would have had a better chance in this election than Correa did.