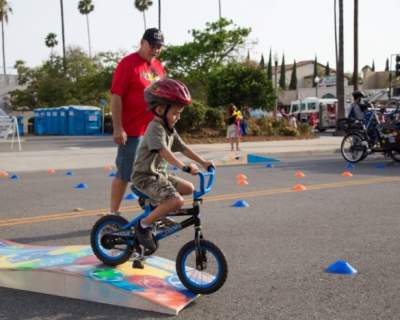 If you are looking for something to do this morning try "Redefine Hazard Avenue," a fun interactive community event to raise awareness of potential future street improvements that make walking and biking in the community safer and more enjoyable. The County of Orange and the Cities of Garden Grove, Santa Ana and Westminster are in the planning phase for future street/bikeway improvements along Hazard Avenue.
The Redefine Hazard Avenue community event will provide area residents with a preview of proposed future street improvements by demonstrating a temporary protected bikeway along Hazard Avenue and other pop-up street features.
The event is part of the Southern California Associations of Governments' (SCAG) "Go Human" outreach and advertising campaign, which works to reduce traffic collisions in Southern California and encourage people to walk and bike more.
This event will also include free bike rentals and family-friendly activities:
Borrow-A-Bike for Free: Need a ride? Head to the Go Human Activity Hub to borrow a bike for a ride along the route! Renta una Bicicleta Gratis: ¿No tienes una bicicleta? ¡Ven a la Estación de Actividades de Go Human y te prestamos una gratis! Mượn xe đạp miễn phí: Muốn tham gia? Mời quý vị đến trạm "Go Human Activity Hub" để mượn môt xe đạp và lái dọc theo lộ trình được định sẵn.
Walk 'n Rollers Bike Rodeo: Participate in the FREE Kids' Bike Rodeo at James Irvine. Bike rodeos get kids excited about new skills and safety. Rodeo de Bicicletas de Walk 'n Rollers: Ven al Rodeo de Bicicletas Gratuito para niños y niñas en James Irvine. Los rodeos de bicicleta emocionan a los niños y niñas mientras aprenden a andar seguros.  Walk'n Roller Bike Rodeo: Tham gia vào trò chơi miễn phí cho trẻ em "Kids' Bike Rodeo". Bike Rodeos sẽ tạo cho các em thích thú mới về khả năng và sự an toàn khi lái xe đạp.
Fill Out Our Survey – Win a bike or Fitbit: Surveys will be available atGo Human Booths, Bike Rental Station, and with our roaming event ambassadors. Fill out a survey and be entered into a prize drawing for a bike or Fitbit!
Llena una encuesta – Gana una bicicleta o una Fitbit: Habrá encuestas disponibles en las estaciones de Go Human, la estación de renta de bicicletas y con nuestros voluntarios a lo largo de la ruta. ¡Llena una encuesta para participar en la rifa de una bicicleta o una Fitbit!  Điền vào bảng góp ý – Thắng một xe đạp hoặc một vòng đeo tay Fitbit: Bảng góp ý sẽ đươc phát tại quầy Go Human, quầy cho mượn xe đạp và các hướng dẩn viên.
Parklet Demonstration: Enjoy Zumba, music, and community Lotería at the mini plaza with From Lot to Spot!
Miniplaza: ¡Disfruta de Zumba, masajes y un juego de Lotería comunal en esta mini plaza con From Lot to Spot!
Triển lãm Parklet: Thưởng thức nhảy thể dục Zumba, âm nhạc, trò chơi Lô Tô tại khuôn viên nhỏ cùng với "From Lot To Spot"!
For details, visit http://gohumansocal.org/Pages/Events/RedefineHazard.aspx.
When: Saturday, October 21, 10:00 am – 2:00 pm.
Agency officials will speak beginning at approximately 11:00 am.
Who: County of Orange, Cities of Garden Grove, Santa Ana, and Westminster, Southern California Association of Governments (SCAG) and Orange County Transportation Authority (OCTA)
Expected Speakers:
Andrew Do, First District Supervisor, County of Orange
John O'Neill, Council Member, City of Garden Grove
Tri Ta, Mayor, City of Westminster; Regional Council Member, SCAG
Michele Martinez, Mayor Pro Tem, City of Santa Ana; Past President, SCAG
Where: James Irvine Intermediate School, 10552 W. Hazard Avenue, Garden Grove, CA 92843