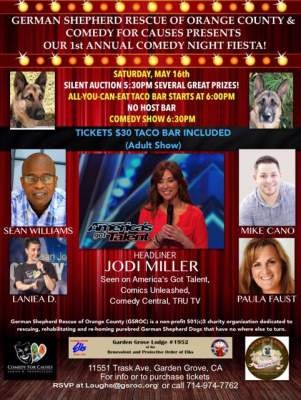 German Shepherd Rescue of Orange County is hosting a Comedy Night on Saturday, May 16, 2015, at 6:30 pm, at the Elks Club in Garden Grove, located at 11551 Trask Ave, in Garden Grove.
The headliner will be Jodi Miller, of America's Got Talent, Comedy Unleashed, Comedy Central and TRU TV.  Also appearing will be Sean Williams, Mike Cano, Laniea D. and Paula Faust.
This is OPEN TO THE PUBLIC, so please invite friends and family. Humor is rated R, so no one under 18, please. No host bar, with all you can eat taco bar and a great Silent Auction and raffle.
Please help us make this a fun and successful night! $30.00 per person. For info or to purchase tickets please contact us via email at info@GSROC.org. Or call us at (714) 974-7762. Hope to see you there!
Click here to open the flyer.
About German Shepherd Rescue of Orange County
GSROC is a volunteer-driven organization. We are funded entirely by private donations and receive no government support. Dogs for adoption are housed in foster home situations and in private boarding facilities. Currently, we do not own our own kennel facility, but our dream is to have one some day so that we can eliminate the tremendous expense associated with boarding the dogs while they wait for their forever families.
Approximately 50% of the dogs that we rescue come to us directly from owners who are no longer able to care for them for one reason or another. The number one reason that we receive dogs is "Moving," with the number two reason of "No time for" as a close second. Dogs also come to us when owners become ill or hospitalized, when owners pass away, when families lose their homes or lifestyles change.
The other 50% of the dogs in our care are plucked from public animal shelters throughout Southern California when no owner comes to claim them or when they are no longer wanted. We race to save as many of these dogs into our care as we can, however limited space and resources constantly make our task difficult.
WHAT WE DO
Through a careful screening process, we place loving dogs into forever homes with compassionate individuals and families. We begin with an Application, which tells us more about an individual's experience level, lifestyle, other pets, preferences, etc. so we can recommend dogs that best fit the home. Prospective adopters are encouraged to meet various dogs and to bring all family members and existing pets to meet the dogs they are interested in. Once "the" dog has been selected, we perform a routine Home Visit to ensure the dog will be safe from any hazards, poisons, or dangerous situations. At this time, we advise the adopter if there are any repairs or corrections that need to be made prior to the dog coming home. Adopters pledge to love and care for the adopted dog throughout its entire lifetime. In the event an adopter is no longer able to care for a dog, we insist it come back into our rescue safety net for re-homing. Due to our limited resources and volunteers, we are only able to place dogs in the greater Southern California area. Please visit our RESOURCES page for information about other shepherd rescue organizations.