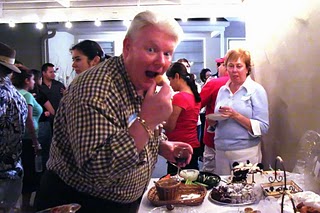 Washington Square resident Tim Rush was a Neighborhood Hero in 1999
The Com-Link Board is now accepting nominations for the 2010 Neighborhood Hero Award. The award was established in 1997 by the Com-Link Board in order to honor those residents of Santa Ana who have shown commitment and enthusiasm toward improving the quality of life in their neighborhoods.
All residents and other members of neighborhood associations are encouraged to nominate outstanding leaders. Nominations are due April 20th, selection of award recipients will take place on May 4th and the awards ceremony will be on June 24th.
Click here to download the nomination form.  Click here to see the 2009 Neighborhood Heroes.   Click here to see all the past winners.  For more information, go to the Com-Link website at http://www.ci.santa-ana.ca.us/cda/com-link.asp or call Neighborhood Improvement at 714-667-2260.
If you sign up you will receive a free pass for thirty days to 24 hour fitness.
2009/2010 Com-Link Board:
Carl Benninger, Chairperson, METRO CLASSIC, sum1@artnet.net
Rene D. Guzman, RIVERVIEW WEST, zmanr4tennis@yahoo.com
Evangeline Gawronski, Vice-Chairwoman, WILSHIRE SQUARE, ray30@prodigy.net
David Brandt, THORNTON PARK , Rvdave@roadrunner.com
Jean Poppa, Secretary, WASHINGTON SQUARE, jean@kolodny-anteau.com
Irma Macias, MID-CITY, imacias1230@yahoo.com
Connie Hamilton , SOUTHCOAST, southcoastneighborhood@earthlink.net