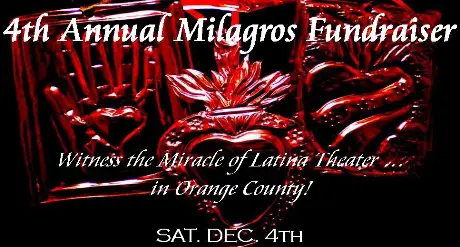 Breath of Fire Latina Theater Ensemble's 4th Annual Milagros fundraiser is coming up this SATURDAY December 4th from 1-5pm at the Bistro 400 in downtown Santa Ana, which is located at 400 W 4th Street.
If you want to support the arts–especially the arts here in Santa Ana–and want to support the work of an award-winning grassroots theater organization run (on an all-volunteer basis) by a group of women raised and educated in the public schools right here in Santa Ana, WE NEED YOUR HELP! If you have not already purchased tickets for the fundraiser, please log onto brownpapertickets.com.  To reserve your spot now click here .  Click here to download the event flyer.
The Breath of Fire Latina Theater Ensemble has been going strong for seven years now and remains the ONLY theater company in all of diverse Orange County that strives to reflect the Latino/a experience in America on its stage.
Event Includes:
Food, Music, Dancing, Performances, Door Prizes, Raffle, Silent Auction, and the Launching of the BOFLTE 2011 Season
Performances and Guest Appearances Include:
Rock band, ¡Aparato!  http://www.facebook.com/aparatorock.  www.myspace.com/aparatorock
The vocal talents of Nancy Sanchez.  www.nancysanchezmusic.com
Xicana Comedy Troupe – Las Ramonas.  www.lasramonas.com
The art work of Sandy Rodriguez (Currently exhibiting at Skirball Cultural Center of Los Angeles).  www.sandyrodriguez.org
In 2011, we are planning some exciting new collaborations and have plans to host a 5th anniversary production of the sell-out show The "Mexican" OC, based on an oral-history project funded by the California Council for the Humanities Story Fund.
And in case you hadn't heard, Breath of Fire has recently expanded its role in the community with the launch of a series of free college readiness workshops for Santa Ana high school students at the Eibar Coffee Company. We hope to continue this great work but, of course, need the help from the community in order to do so!
Last year we were able– mostly through the support of local residents and patrons of the arts–to raise $8,000! Our goal this year is to raise a total of $10,000. The tickets are $25 in advance and $30 at the door. Best of all, because we are an all-volunteer operation, anything you donate to Breath of Fire goes directly into the production of the art!
Also, this event is scheduled for the afternoon on an Art Walk night, so it is a perfect way to begin the evening in downtown Santa Ana AND to support a local arts organization. We have an exciting line-up of performers ranging from a jazz musician to a Chicana comedy troupe, and a silent auction which includes an amazing list of artwork (one from a Pulitizer-prize winning photographer!). I have attached a flyer with more details about this fundraiser that I encourage you to share with others.
Any and all support is immensely appreciated!