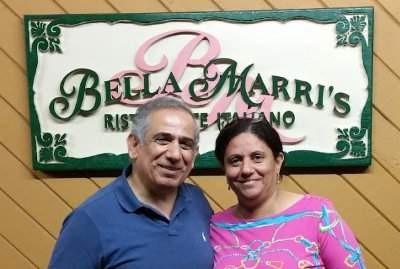 Magdy and his wife, Fiby, Towfeless met in Eqypt over 28 years ago.  He went on to develop a very successful career in aerospace engineering.  Madgy purchased an Italian restaurant in Anaheim back in 2006 and moved it to Santa Ana.  Bella Marri's Ristorante Italiano opened in its new digs at 1631 E. 17th St., in north Santa Ana, in May of this year.
My wife Camille and I had dinner at Bella Marri's tonight and we had a chance to talk to Magdy and Fiby and their son Tim.  Their other son, Marvin, is at UC Riverside where he is finishing a degree in Bio Med Engineering.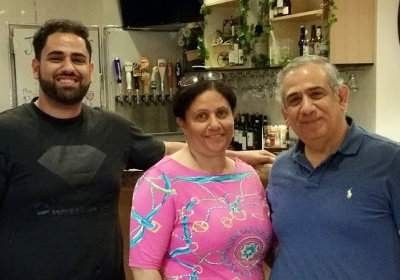 Tim has been helping his parents since the age of 16.  He is now a graduate of Cal State Fullerton where he majored in Accounting and Finance.  Like his parents he has a passion for good food and he is an excellent host at Bella Marri's.
Tim explained that they make most of their sauces and food from scratch including their bread.  Their Chef, Jesse, takes great pride in being creative and in using the freshest ingredients.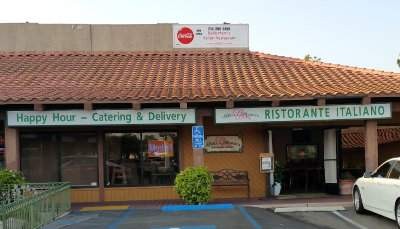 If you have a chance to visit Bella Marri's you will really appreciate the care they put into their food.  They are tucked into a nondescript strip center in north Santa Ana.  There is ample parking available.  The restaurant features a bar and outdoor seating in a casual setting.
Be sure to ask for the bread and their creamy Italian sauce, for dipping.  The bread is served warm with butter and Parmesan cheese.  But don't eat too much of it – you will want to save room for the main courses which include Chicken Alfredo, Calzones, and Chicken Marsala served with spaghetti and meat sauce.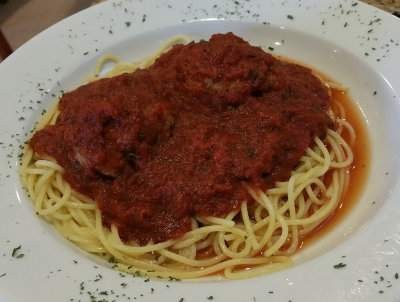 Camille ordered the Meatballs and Spaghetti in a marinara sauce.  The meatballs were very tasty – and made from scratch according to Tim.  They are well flavored through and through.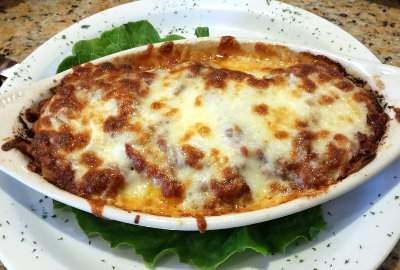 I ordered the Eggplant Parmigiana.  It was a generous baked portion covered in cheese and sauce.  It was perfect and filling!  And no meat if you are trying not to be a carnivore.  (It is available in a meat sauce if you prefer).
If you like seafood you will want to try Bella Marri's Cioppino, which includes mussels, clams, shrimp, seasonal fish, crab and calamari sautéed in a white wine, garlic, seafood broth.  They also offer North Atlantic Salmon, Scallops, Shrimp Scampi and Jumbo Shrimp Parmigiana.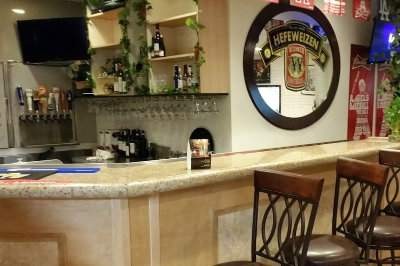 Bella Marri's also offers a daily Happy Hour, Monday through Friday from 3 p.m. to 6 p.m.  Specials include half off selected appetizers, a free slice of pizza with their adult beverages, and $3 glasses of house wine plus beer specials.
Prices range from $4 for Garlic Bread and $13 for the Bella Marri Sampler featuring hot buffalo wings, Mozarella Sticks, and fried calamari. The Veal Parmigiana is a steal at $18.  The Eggplant Parmigiana is only $12.
Lunch options include an  Italian Submarine sandwich for $7.50 and a Mediterranean Chicken Salad for $12.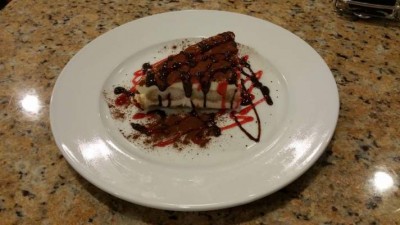 If you have a sweet tooth you have to try their Tiramisu.  They make it fresh and serve it with a drizzle of sauces and a dusting of cocoa powder.
They are open Monday through Friday for lunch and dinner, from 11 a.m. to 9 p.m.  They are also open on Saturdays from 4 p.m. to 9 p.m.
Food is available for pick-up and they cater as well.  Call them at 714-285-9100 or check out their website.  Like them on Facebook here.  Be sure to check in on their Yelp page for a special offer.