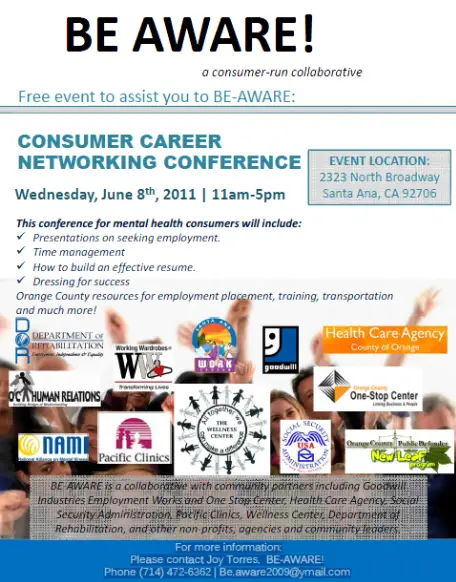 BE AWARE! CONSUMER CAREER NETWORKING CONFERENCE a consumer-run collaborative
Free event to assist you to BE-AWARE:
This conference for mental health consumers will include:
Presentations on seeking employment
Time management
How to build an effective resume
Dressing for success
Orange County resources for employment placement, training, transportation and much more!
Wednesday, June 8th, 2011 | 11am-5pm
EVENT LOCATION: 2323 North BroadwaySanta Ana, CA 92706.
BE-AWARE is a collaborative with community partners including Goodwill Industries Employment Works and One Stop Center, Health Care Agency, Social Security Administration, Pacific Clinics, Wellness Center, Department of Rehabilitation, and other non-profits, agencies and community leaders.
For more information:Please contact Joy Torres, BE-AWARE!Phone (714) 472-6362 | Be.aware2009@ymail.com