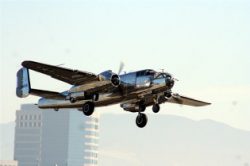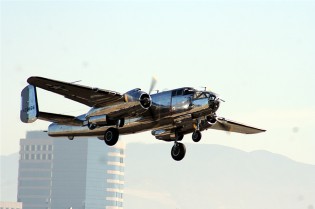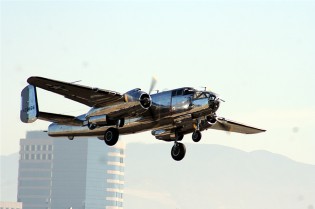 Press Release
B-25 Fly Day at the Lyon Air Museum on April 9
The North American B-25 Mitchell was one of America's most renowned airplanes of World War II. The impressive aircraft was made famous by Gen. Jimmy Doolittle during the April 18, 1942 Tokyo Raid, and immortalized in the film, Thirty Seconds Over Tokyo.
Led by Lt. Col. Jimmy Doolittle and flown from the deck of the aircraft carrier USS Hornet, 16 B-25s successfully completed the first strike on Japanese soil during World War II. While all the planes were lost in the raid, 69 of the 80 aircrew survived their historic mission and eventually returned to American lines.
The B-25 is an American, twin-engine, medium bomber manufactured by North American Aviation. It saw duty in every combat area flown by Allied air forces in every theater of World War II. Originally intended for level bombing from medium altitudes, it was used extensively in the Pacific Theater for attacking Japanese airfields from treetop level.
The only American warplane to be named after an individual, General Billy Mitchell, a pioneer of U.S. military aviation, there were nearly 10,000 B-25s produced.
Due to the dire need for Army bombers, one of the predecessors of the B-25, dubbed the NA-62, went straight to work, without any experimental or service- test versions. Modifications were made during production runs, or to existing aircraft at field modification centers around the world.
See the B-25 take flight at Lyon Air Museum, Sunday, April 9 around noon, conditions permitting, and check out more information on the B-25.
###