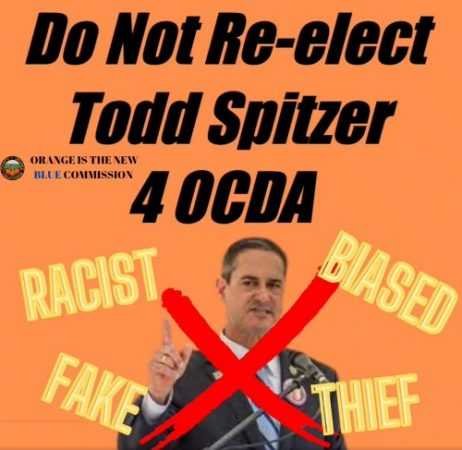 SANTA ANA – A complaint has been filed with the California State Bar alleging Todd Spitzer violated his ethical duties when he improperly released the findings of an investigation to protect his own political interests. That investigation determined that the best man at his wedding, Gary LoGalbo–AKA "Scary Gary"–harassed four female attorneys under his supervision, and that Spitzer was "not credible" when he denied retaliating against Logalbo's victims. The complaint to the State Bar alleges Todd Spitzer's various actions in the harassment scandal violated Business and Professions Code §6106; Rule 5.1(a), (c); and Rule 8.4(c), (d).
Who do you support for the O.C. Board of Supervisors in District 2?
"The State Bar exists to protect the public, and they must act to hold Todd Spitzer accountable for abusing his authority and revictimizing multiple survivors of egregious sexual harassment," said former Marine Judge Advocate Pete Hardin. "Todd Spitzer committed obstruction of justice when he lied to investigators, committed prosecutorial misconduct when he attempted to cover up his racist remarks, and broke laws governing the release of personnel information. Todd Spitzer consistently prioritizes political expediency over his ethical obligations, and that has come at the expense of community safety and the integrity of our criminal justice system."
According to reports, "Scary Gary" was a self-proclaimed "walking HR violation." In one incident he whispered in his colleague's ear, "If there wasn't anyone here right now, I would grab your ass." Another victim says Logalbo took a photo of her while she was bent over plugging in a power cord and told her, "This is one for the spank bank, I'll use it later." Another alleges that following a conversation about a case involving the sexually motivated harassment of a child, Scary Gary told her "talking about all this sex stuff makes me horny."
The Bar complaint comes on the heels of a bombshell filing from a former high-level prosecutor accusing Orange County District Attorney Todd Spitzer of misconduct in two high-profile capital murder cases. She alleged Spitzer retaliated against her after she tried to protect women who had reported being sexually harassed by a DA's supervisor. The 25-year OCDA Office veteran also accused Spitzer of saying he needed "a brown or black face" DAI investigator to accompany him to a meeting.
About Pete Hardin
Current Orange County District Attorney Republican Todd Spitzer's tenure has been defined by scandal. Four women in Spitzer's office have filed claims asserting Spitzer promoted an employee and close friend despite having been made aware of the sexual harassment complaints against him. Spitzer later allowed the employee, who was the best man at his wedding, to retire with top flight benefits. Spitzer also attempted to drop sexual assault charges against high-profile defendants, leading a judge to remove him from the case. Survivors of the sexual assault survivors were "dragged through the mud" and "grossly mistreated" by Spitzer for two and a half years, leading two of them to abandon their case.
Spitzer has been involved in an evidence booking scandal, a jailhouse informant scandal, and has defamed a victim of OC's deadliest mass shooting as retaliation for peaceful protest. Spitzer has also defended a DNA collection program known informally as "Spit and Acquit" that coerces defendants to give up their DNA to law enforcement, a practice the ACLU has called "unconstitutional."
Pete Hardin is a former Judge Advocate in the U.S. Marine Corps, Deputy District Attorney, Special Assistant United States Attorney, and one of Southern California's leading litigators running for Orange County District Attorney. Pete entered public service when, in 2005, he earned his commission as a second lieutenant in the Marine Corps. A combat veteran, Pete served in Helmand Province, Afghanistan in 2011 and 2012 as a member of 1st Reconnaissance Battalion. Pete is a member of the Democratic Party.
Orange County's rapidly changing electorate has led Democrats to now outnumber Republicans in Orange County holding a 4.1% voter registration advantage.