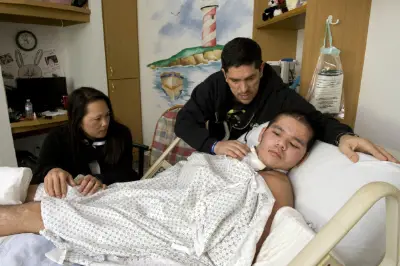 Picture courtesy of the O.C. Register
Association of Orange County Deputy Sheriffs
Media contact: Kimberly Edds, Director of Communications and Public Affairs, Phone: 714-357-4654
FOR IMMEDIATE RELEASE: Dec. 28, 2011
Bring Jimmy Pequeno Home
Association of Orange County Deputy Sheriffs helping to raise $100,000 for deputy's injured son
LAKE FOREST, CA, December 22, 2011 – Jimmy Pequeno, the 18-year-old son of an Orange County Sheriff's deputy, remains in a coma after being badly injured in a car accident on July 1. Jimmy, a senior at El Toro High School, suffered multiple brain traumas, broken bones and other injuries. He has endured numerous surgeries and procedures in his fight towards recovery but six months later he has yet to regain "full consciousness."
The Association of Orange County Deputy Sheriffs is assisting the community to raise $100,000 for construction improvements to the Pequeno home in order to bring Jimmy home from the hospital. The current layout of the family's 1,066 square foot home makes it nearly impossible to care for Jimmy's needs.
Several Orange County restaurants are helping in our fundraising efforts, donating 15 percent of their meal receipts for the Bring Jimmy Home fundraiser on the following days:
December 28
All Orange County Peppino's Restaurants
All day
December 29
Mountain Mike's Pizza
22942 Ridge Route Drive, Suite 100
Lake Forest, CA 92630
All day
December 30
Fuddruckers
23621 El Toro Road
Lake Forest, CA 92630
All day
Customers need to tell their server they are there for the Bring Jimmy Home fundraiser and the restaurants will take care of the rest.
Jimmy's father, Rob, a 20-year retired Marine who now serves the city of Lake Forest as a Sheriff's deputy, and mother, Angela, have been by his side around the clock since the accident. Neither parent has been able to return to work and insurance benefits are severely strained. Donations would transform an existing patio into a room that would be fully equipped with the necessary rehabilitation equipment, lift systems, and bed and bath to accommodate Jimmy at home.
AOCDS represents nearly 2,000 Orange County deputy sheriffs and district attorney investigators.
Your donations are tax deductible through AOCDS (Association of Orange County Deputy Sheriffs) Memorial Fund, an IRS 501(c) 3 Charity, Tax ID #33-0917425. For more details, please visit the website www.BringJimmyHome.com. Donations by check should be payable to "AOCDS Memorial Fund" 1314 West Fifth Street, Suite A, Santa Ana, CA 92703. Please reference Jimmy Pequeno on the face of the check. 100% of your donation will be used directly for this cause.