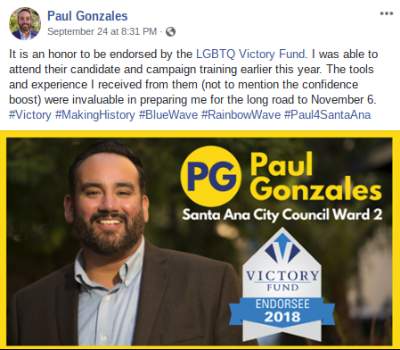 There are no less than a half dozen candidates running for the Santa Ana City Council's Ward 2 this November. But only one of them is openly gay – Paul Gonzales.
Just a few decades ago Santa Ana was a majority white city with City Councils full of Republicans. Today Republicans and white residents are the minority in this city. But is Santa Ana ready to embrace an openly gay City Councilman?
Gonzales is pretty open about his sexuality, on his campaign website, where he writes about his husband, and on Facebook, where he has touted the LGBT candidate training he undertook. But on the campaign trail Gonzales has shied away from talking about his homosexuality.
I was surprised when the current Ward 2 Council Member, Michele Martinez, endorsed Gonzales not because he is gay but rather because he is overwhelming liberal. In fact he is the only City Council candidate who has openly promoted the distribution of drug needles to drug addicts in our city. He also has advocated for rent control – a bad idea that usually ends up hurting housing and creating more homelessness.
The endorsement was particularly galling as we have so few women on our City Council currently and there are two women running for Ward 2 – Arts Commissioner Sandra "Pocha" Pena Sarmiento and community activist Irma Macias.
Sarmiento is also very pro gay herself. In fact she produced a hit LGBT feature film, "East Side Story," a Romeo & Julio rom com set in East LA. You can stream it on Amazon or watch the trailer on YouTube:
While Santa Ana may perhaps be ready to elect an openly gay Councilman I don't think the people of Santa Ana are ready to support a guy who is as overwhelmingly liberal as Paul Gonzales – not when there are better more moderate choices to pick from.
Gonzales by the way claims to be against the proposed Santa Ana Sales Tax increase, known as Measure X. However only one candidate has made this a focal point of his campaign – Mike Gonzalez, a self-made businessman.