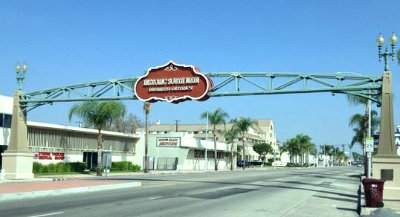 Gang shootings are on the rise again in Santa Ana!  The latest shooting occurred today when a gunman approached a group of up to five men outside a business on the 1700 block of South Main Street at around 1 am before opening fire, Santa Ana Police Department said, according to NBC News.
Officials said a light-colored compact car drove up to the group and a man got out of the passenger side to ask the men about their gang affiliation.  He then pulled out a shotgun and fired a single round, which injured three of the men and damaged the business behind them, police Cpl. Anthony Bertagna said, according to the O.C. Register.
This latest shooting happened in the "Historic South Main Street" business district in Santa Ana, south of edinger, and just south of Doffo Auto Body and north of a Superior Grocery store.  This area is part of Ward 1, which is represented on the Santa Ana City Council by Councilman Vince Sarmiento.  You might recall that Sarmiento recently promoted getting rid of our Park Rangers because their presence sends the message that Santa Ana is not safe.
Two other men were were shot in Santa Ana, one on Sunday night and the other early Monday morning, in apparently unrelated incidents, according to the O.C. Register.
The man shot on Sunday night refused to tell the police what happened to him.  Police found the second man around 12:10 a.m. Monday in a residential neighborhood in the 500 block of South Maxine Street.
Santa Ana Councilman David Benavides famously told a reporter last year that the rise in crime in Santa Ana was an "anomaly."  Does he still feel the same way?