A man in his early 20s was shot in the upper body tonight at around 7:20 p.m. at the 1000 block of North Parton St., according to the O.C. Register.
Igmar Rodas, a local community activist and photographer, told us that this was a drive-by shooting.  He also reported that two suspects are in custody. Witnesses he spoke to said that there was a second victim that was seen laying on the street.
The SAPD did not report any details. SAPD police officers were only told that people had heard shots in their neighborhood.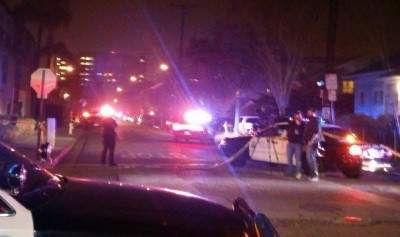 The wounded man was taken to a local hospital in unknown condition. The police indicated that the wounds were not fatal.
One of our other readers also reported that there was a second shooting at around 9:30 p.m. at the same place (Parton and 10th). Police activity is ongoing.
These shootings occurred just south of Willard Intermediate School, in Santa Ana's Ward 5, which is represented by Councilman Roman Reyna, who is up for reelection in November.
If you have a lead about the shooting please contact the Santa Ana Police Department's crimes against persons unit at 714-245-8390.