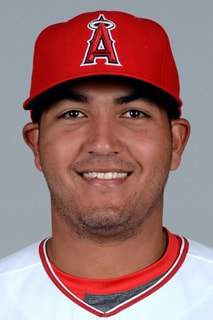 Los Angeles Angels catcher Carlos Perez will be signing autographs this Saturday, August 22 from 11 a.m. to 12:30 p.m. only at the
T-Mobile store located at 720 South Harbor Blvd in Santa Ana. It's on the corner of Harbor and McFadden.
AM 830 will have Angel Tickets and other cool prizes for giveaway.
Please Note: No pictures with the player permitted and only one autograph per person. Other restrictions do apply.
Perez was born on 10/27/1990 in Valencia, Venezuela.
The Angels acquired Perez and right-handed pitcher Nick Tropeano from the Houston Astros in exchange for catcher Hank Conger on Wednesday, November 5, 2014.
Perez, 24, spent the 2014 season at Triple-A Oklahoma City, where he hit .259 (78-for-301) with 16 doubles, six homers and 34 RBIs in 88 games with the RedHawks. Tropeano, 24, went 9-5 with a 3.03 ERA in 23 games (20 starts) at Triple-A in 2014.
The Angels recalled Perez from Triple-A Salt Lake on May 4, 2015. Perez earned his spot on the big league club after starter Chris Iannetta's performance began to wane. The 24-year-old Perez helped his cause by slashing .361/.418/.556 in 17 games with Triple-A Salt Lake this year.
Perez is hitting .238 this year with 3 home runs and 15 RBIs in 164 at-bats.  He hit a solo homer on August 19, 2015, against the Chicago White Sox.  He also hit a walk-off homer in his debut on May 6, against the Seattle Mariners.