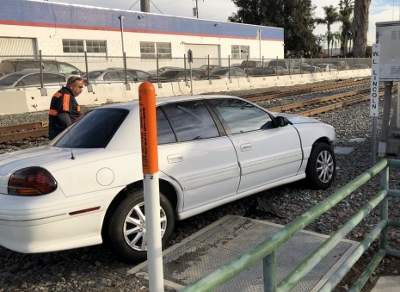 An elderly Santa Ana woman in her 90's was saved by two witnesses after she got involved in a car accident on Tuesday, Jan. 8, at about 3:15 p.m. Her car, a white Pontiac Grand Am, got stuck on the train tracks at 17th and Lincoln Ave. after the two-car collision, as a train was approaching. That's when two witnesses rushed to her aid, according to the O.C. Register.
Two people pushed her car off of the railroad tracks before an oncoming Amtrak train struck the sedan's open driver side door.
A Fullerton resident, Kanwar Singh, was driving home from a doctor's appointment, when he saw the collision. He pulled over to help and was able to carry the woman out of her vehicle just in time.
The woman was taken to an area trauma center by OCFA medics. The SAPD was investigating incident, according to the OCFA.