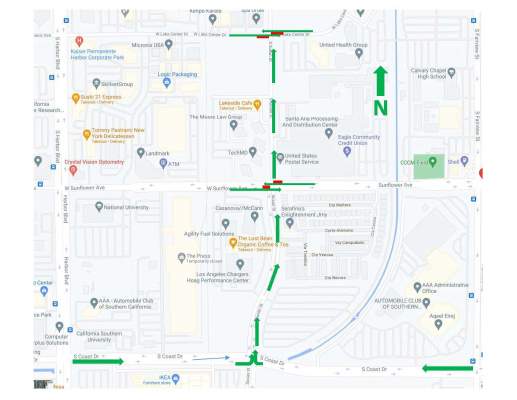 Today, Monday, 5-17-21, from 2:30 p.m. to 12:00 a.m. midnight, there will be no turns allowed from Lake Center Drive or Sunflower Avenue onto Susan Street to access the Post Office located at 3101 W. Sunflower Avenue. To access the Post Office from Susan Street, take South Coast Drive from Harbor Boulevard or Fairview Street.
Westbound and Eastbound lanes on Sunflower Avenue and Lake Center Drive are open to through traffic.  The turn restrictions on Susan Street from Lake Center Drive and Sunflower Avenue are to keep the traffic flowing during the mailing of tax returns at the Post Office.  Santa Ana Police Department will be directing traffic and monitoring the surrounding streets in this area.
 We recommend using alternate routes and plan for possible delays since these turn restrictions will impact traffic flow.  We apologize for any inconvenience and thank you for understanding.