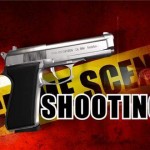 While most of us were watching football on T.V. last night, or participating in Halloween festivities, a shooting was taking place at a backyard Halloween party in Santa Ana, according to the O.C. Register.
A man was hospitalized early this morning with non-life threatening injuries suffered in that shooting.
The shooting took place at the 2200 block of South Orange Avenue, northwest of Delhi Park, at about 11 p.m. on Thursday night.
SAPD police officers found the male victim down in the street with two gunshot wounds to his upper body.
The SAPD has not yet determined a motive for the shooting nor have they released any information about the suspect(s).