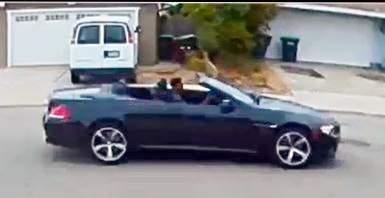 Costa Mesa Police Department
Advisory: Seeking public's help in identifying man suspected of lewd conduct and child annoyance
On Oct. 3, 2018, at about 4:00 p.m., a teenage female victim was walking home from high school on the 900 block of Presidio Drive in Costa Mesa. A newer black 2-door convertible pulled up and parked next to her. The suspect remained in his vehicle and spoke to the victim while exposing his penis to her.
The victim ran away and was able to find help. The suspect fled the area. CCTV recovered near the incident showed the pictured vehicle driving in the area. The suspect was described as being a dark skinned male, dark short hair, and approximately 20 to 30 years of age.
Anyone with information or who believes they have been a victim is encouraged to contact CMPD Detective Maridakis at 714-754-5051.