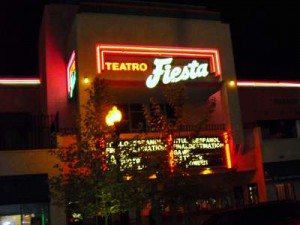 Cinematheque will be taking over all programming at Downtown Santa Ana's Fiesta Twin Theatre/Fiesta Teatro this coming September, according to the Long Beach Post.
Cinematheque is "a new film programmer coming to the cinemas–direct from El Long Beach–to fulfill indie-, student- and LGBT-movie dreams," according to the OC Weekly.

The Fiesta Twin Theatre is the only movie theater in Santa Ana that shows new first-run movies in Spanish or in English with Spanish subtitles.  Make no mistake about this – the Chase family is once again opting for "gaytrification."
That was of course the real goal of Don Cribb, the supposed founder of the Artists Village.  So he must be pretty pleased by this.
Poor Sam Romero.  He operates a tiny Catholic curios store next to the Yost Theatre, in the same "East End Promenade" where the Fiesta is located.  The Chase family's motto appears to be "go gay or go away."
But is this all necessarily bad?  Gay clientele have a lot of income and don't usually break many laws.  However this move will give Santa Ana's families even less reason to visit the Downtown area – which will hurt businesses like Romero's who are already hurting because so many immigrants have left our city and either gone back home or moved to other areas.
The silver lining in all this is that the creepy men who congregate at night in Santa Ana's Santiago Park will now have somewhere else to hook up in the dark.