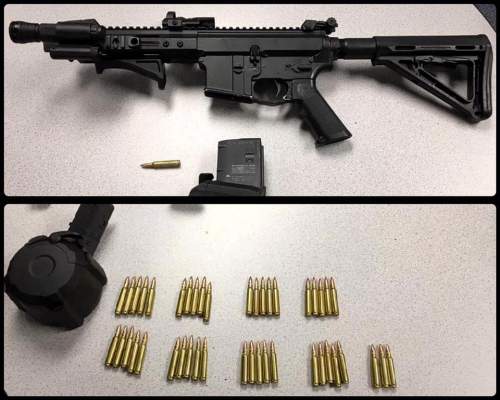 Over the weekend, Garden Grove police officers responded to the 14000 Block of Flower St. regarding a subject shooting multiple rounds into the air.
Upon officers' arrival, witnesses stated the suspect, later identified as David Briones-Torres, lived in a nearby residence and was last seen walking towards his garage.
The area was surrounded and K9 Officer Kody was utilized to check the garage and confirm someone was inside. Officers were then able to open the garage and give announcements for Briones-Torres to exit. After several announcements he appeared, holding a semi-automatic rifle; he rested the rifle between his legs, appearing to comply and give up.
A few seconds later he changed his mind and attempted to close the garage.
K9 Kody was deployed and was able to subdue the suspect before he could reach for the weapon and shut the garage.
Once Briones-Torres was taken into custody, it was determined the weapon was a loaded AR-15 style, .223 caliber rifle, with an attached 60 round drum magazine. The magazine contained over 40 rounds of live ammunition.
Further investigation found he likely only stopped firing because the weapon had malfunctioned. Briones-Torres was later booked into Orange County Jail.