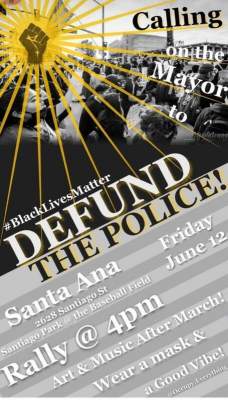 It appears that a Black Lives Matter march will be held at Santiago Park on Friday at 4 p.m. The address on the invitation is 2628 Santiago St. The invitation notes that there will be art and music after the march. They are asking those who attend to wear a mask.
That location is the softball field at the end of Santiago St., right in the middle of the Park Santiago Neighborhood. There is not much parking there and Santiago is blocked so you cannot use it to access Memory Lane. If you take Memory Lane due East from North Main St. you can normally park along Santiago Creek, in the wash. But I believe the park entrance remains closed to the public due to the pandemic.
The SAPD has reacted to the announcement with a Tweet announcing that they will be fully staffed and will coordinate with their law enforcement and community partners surrounding the park area to maximize safety for those involved.
Ironically the theme of the event is "Defund the Police."