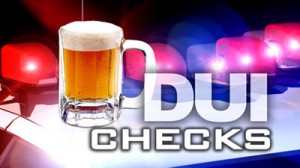 FOR IMMEDIATE RELEASE, NEWS
Contact: Gail Krause, (714) 647-1840
Results of Independence Day Weekend Enforcement Operations

DUI arrests up from last year's totals
SANTA ANA, CA (July 9, 2013) – The Independence Day Holiday anti-DUI enforcement operations has resulted in an increase in DUI arrests from local routine traffic enforcement and special 'Avoid the 38' DUIdeployments in Orange County.
From 12:01 a.m., Wednesday July 3, 2013 through midnight Sunday 7, 2013 officers representing 38 Orange County law enforcement agencies have arrested 247 individuals for driving under the influence of alcoholand/or drugs. (NOTE: These numbers are only provisional with some agencies yet to report).
Last year, the holiday enforcement period was a two-day campaign period which resulted in 78 arrests and no DUI related fatalities. This year, one DUI related death was reported.
Law enforcement officials will be conducting more Avoid anti-DUI efforts throughout the county and regionduring an 18-day summer campaign starting in August and ending Labor Day weekend.
Police, Sheriff and the CHP encourage all motorists to report impaired or dangerous drivers this summer –Report Drunk Drivers – Call 9-1-1 anytime you encounter a dangerous driver. Funding for this program is provided by a grant from the California Office of Traffic Safety, through the National Highway Traffic SafetyAdministration.
Avoid programs, named for the number of police agencies in each county, will be conducting otherenforcement efforts during special events with identified DUI problems. In recognition that summer season is among the deadliest time of the year, law enforcement agencies throughout the county will be making everyeffort to arrest drunk drivers before another life is lost.
# # #