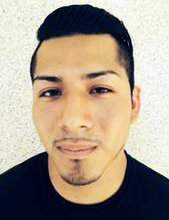 Santa Ana School Police Department
School Police Dispatch 714-558-5535.
Advisory: Crimes Against Children. Arrest of 21 year old male for attempt kidnapping and sexual battery of high school student

SUMMARY: On Monday, 02/23/15, the female victim and her friend (another female high school student) were walking home from Valley High School together. As they neared the intersection of Center and McFadden, the suspect (Jesus Edu Bahena) pulled up next to both girls, rolled down his window and yelled at the victim, demanding that she get into his car. The victim and her friend could see that there were two other male occupants in the vehicle. The suspect continued to yell profanities at both girls, trying to convince the victim to get in his car. Both girls refused and they continued walking home. At that time, the suspect vehicle drove away.
A short time later, the suspect returned, this time alone, parked his car next to where the two girls were walking on the sidewalk and got out. The suspect confronted the victim and the other female and again demanded the 16 year old female get into his car. The victim refused. The suspect then grabbed the victim and tried to force her into his car. During the struggle, the suspect began kissing the victim on her face and lips. The victim struggled to break free. The female victim eventually was able to kick the suspect hard enough to break free. Both girls ran from the scene and took shelter in a local church.
On Thursday, 02/26/15, at approximately 1:45 PM, Santa Ana School Police received information that the suspect was parked near Valley High School. Responding officers located the vehicle leaving the area and car stop was made on the suspect vehicle. The suspect was positively identified by the victim.
The suspect was arrested at the scene and booked into the Santa Ana Jail and charged with attempt kidnapping (664/207 PC) and sexual battery (243.4(a) PC). The suspect does have an arrest record.
Anyone who may have witnessed the incident is asked to call the Santa Ana School Police Department at 714-558-5535.
DATE/TIME: Thursday, February 26, 2015 at 1:45 PM.
INCIDENT: PC 664/207 – Attempt Kidnapping. PC 243.4(a) – Sexual Battery.
LOCATION: Center Street near McFadden, Santa Ana, CA
SUSPECT: Bahena, Jesus Edu, age 21 of Santa Ana
VICTIM: 16 year old female.
###
Contact Information:
LT. Mark Van Holt
Operations
714-558-5535
mark.vanholt@sausd.us