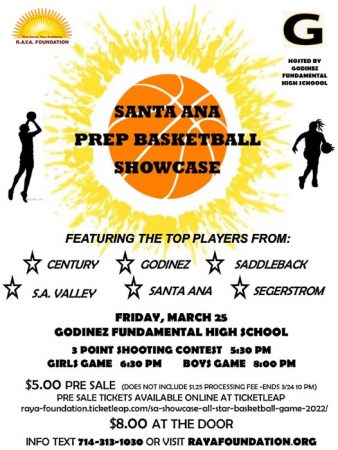 The top girls and boys senior basketball players from the six Santa Ana Unified School District high schools will face off at the Santa Ana Prep Basketball Showcase on Friday, March 25. The game is
hosted by Godinez Fundamental High School and presented by the RAYA Foundation. The players were nominated by their coaches. There will be a 3-point shooting contest prior to the girls game.
The 3-point contest begins at 5:30 pm and followed by the girls game at 6:30 pm and the boys game
at 8:00 pm.
The inaugural game was scheduled in March 2020 but was cancelled due to the Covid pandemic.
Santa Ana was hit practically hard and the RAYA Foundation is grateful to be able to provide this
event now that conditions are favorable.
Head coaches for the teams were announced. Coach Tony Jarjoura will coach the "home" girls team. This year, for the first time in school history the Saints advanced to the CIF Finals and State Regionals. Coach of the girls 'away' team is Coach AJ Alaman, of the host school Godinez, whose team again advanced to the CIF playoffs this season. The boys "away" coach is Fareed ElMasry of Santa Ana High School. Coach ElMasry guided the Saints to the quarterfinals of the CIF playoffs. The boys "home" team coach is Brandon Rodgers of Segerstrom High School. Coach Rodger's teams have gone the CIF playoffs 4 times and this year made the first round.
"This has been a dream of our Foundation," said RAYA Foundation President, Leon Raya. " We were ready in 2020, with the first practices done and tickets being sold. Then everything shut down and we had to cancel. But we knew we'd be back as. We're excited to provide the student athletes in the District an event where they can be celebrated and recognized for their hard work and dedication."
The RAYA Foundation is a Santa Ana non-profit whose mission is to "develop youth to be successful by providing positive athletic opportunities, supporting academic achievement and mentoring families." The Foundation provides sports activities and scholarships for Santa Ana youth.
The Foundation is still accepting donations for the event and pre-sale tickets are available online at ticketleap.com for $5.00 (processing fees apply) by searching Santa Ana Showcase All Star game and
will be sold at the door for $8.00.
For more information go to rayafoundation.org or email lwrpsr1@gmail.com or call 714-313-2031.