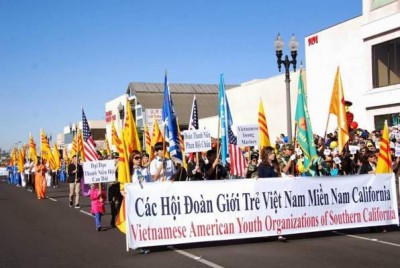 The Annual Orange County Tet Parade for 2015 is set for Sat., Feb. 21, from 9 am to 12 p.m. (pre-parade starts at 8 am) on Bolsa Ave., main stage at Magnolia St.
The Little Saigon Tet Parade is Organized by the Vietnamese American Federation of Southern California. The purpose is to Celebrate the Lunar New Year and to preserve and Promote Vietnamese culture to the younger generations and to the greater community.
The Parade Festival is supported by the National Vietnam Southern California organized with support from many organizations and international children in the community. The purpose of the New Year Parade in order to preserve and promote traditional Vietnamese culture to future generations as well as your community and mainstream America.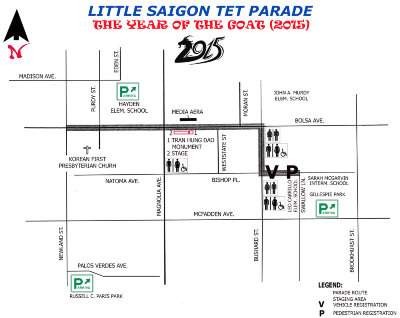 Tet Parade Details
Parade Line Up:
All participating organizations can pick up the Parade Pass and parade line up order on Friday, February 20
Time: 10 am to 4 pm
Location: Gillespie Park – 9801 McFadden Avenue, Westminster (behind Saigon City Marketplace)
If you cannot come to pick up parade pass and lineup order, you may email or call the organizer on Friday and speak with either: Diedre Nguyen 714-833-6947 or Phat Bui 714-713-4079
Participants Check In:
Starting at 7 a.m., Saturday, 2/21 at Bushard St. and Bishop Place (corner of Leo Carrillo Elementary School)
Participants must enter parade staging and checking area via Bushard Street at McFadden and present Parade Pass to traffic control staff.
Parking (for Parade Participants):
Parking is available at Leo Carrillo Elementary School
Parking is also available at Gillespie Park – 9801 McFadden Ave., Westminster
On Bishop Place between Magnolia Street and Bushard Street (behind Asian Garden Mall)
On Bolsa Avenue (on north side of street) between Magnolia St. and Purdy St. (only for parade participants, must enter before 8 a.m.)
In surrounding residential areas.
Please do not block any driveways, fire lanes, and other access points.