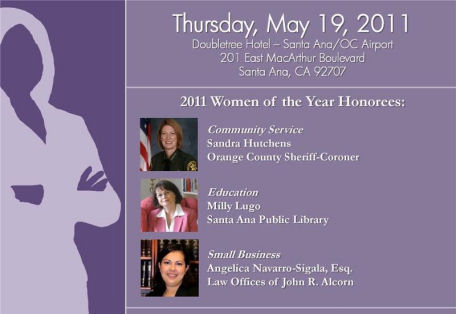 The National Hispanic Business Women Association (NHBWA) cordially invites you to join community and business leaders, friends, and supporters at our 11th Annual Awards and Scholarships Dinner, honoring 2011 Business Women of the Year and Educational Scholarships.
Deadline to RSVP is May 15, 2011.  Click here to register now.
2011 Women of the Year Honorees include:
Sandra Hutchens, O.C. Sheriff-Coroner, for Community Service
Milly Lago, Santa Ana Library, for Education
and Angelica Navarro-Sigala, Esq., from the Law Offices of John R. Alcorn, for Small Business
EVENT LOCATION:
DoubleTree Hotel – Santa Ana
201 E. MacArthur Blvd.
Santa Ana, CA 92707
DATE AND TIME:
Thursday, May 19, 2011
6:00 PM PDT
UNABLE TO ATTEND?
You can still support our NHBWA Scholars in any of the following ways (click each link for details):