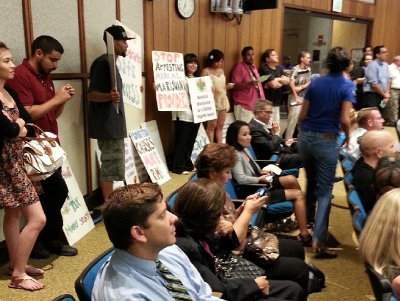 OC NORML is asking their supporters to attend tonight's Santa Ana City Council meeting so that they may speak out against the "outrageous treatment that the medicinal marijuana collective operators, volunteers and patients endured during the most recent series of raids."

Over 75 people associated with local medicinal marijuana collectives were arrested by the SAPD on July 31, as we previously reported.
Those arrested were locked up in a paddy wagon for hours and were not allowed to use the restroom, get anything to drink, and one patient was even denied the right to take his heart medication.  All of them were eventually booked and released with a code enforcement ticket for $500 each.
The Santa Ana City Council, which is entirely made up of elected Latino Democrats, recently authorized a half million dollars to be spent  by the SAPD to close down medicinal marijuana collectives/dispensaries.
The City Council meeting will start at 5:45 pm tonight at the Council Chambers, located at 22 Civic Center Plaza in Downtown Santa Ana.  Click here to watch the City Council meeting live online.
###