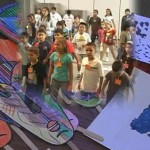 SAUSD/THINK Together summer program will be running between June 24th and July 30th.
There is a program for children K-8th grade and there is a Kinder Academy for children 5 on or before December 5th.
The program is free of charge, Monday thru Friday 8:00 AM – 11:30 AM including a meal.
Parents that are interested in registering their children can inquire at the schools front office or call THINK Together at 714 543-3807 for more information.
Click here to see a flier in English/Spanish specifically for KinderAcademy. Curious about what the program is like? You can check out a video featuring last years program:
There is also a Kinder Academy for children 5 on or before December 2nd . Participating Santa Ana Schools include: King, Carver, Edison, Washington, Pio Pico, Davis, Lowell, Lincoln, Heninger, Martin and Diamond.
Requirements:
Confirm that your child turns 5yrs old on or before December 2, 2010
Student must be enrolled in Santa Ana Unified School District (SAUSD)
Complete an enrollment form and return it to the Kinder Academy mailbox located in the school office.
If you qualify, you will receive a confirmation on the week of June 14th
For more information, please call (714) 431-7580. Refer to the attached FLYER for additional information.