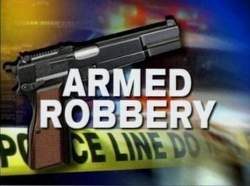 SAPD Robbery detectives have been working on a series of armed commercial robberies that happened over the weekend.
The first incident occurred on October 4th, 2019, at 9:52 pm at a lunch truck parked in the area of 400 N. Euclid. The suspect, a "heavy-set" male Black adult, entered the lunch truck with a black handgun and robbed the employees of cash from the register.
The second incident occurred on Sunday, October 6th, 2019, at 7:25pm from the area of 800 S. Sullivan when a male with the same description used a handgun to rob the employee in a food truck for money from the cash register.
The third incident occurred on Monday, October 7th 2019, at 10:45am from a recycling center located at 1340 W. McFadden. The same described suspect brandished a handgun and took cash inside of a cash register.
The fourth incident occurred at 2610 W. Edinger, shortly following the third incident. The same described suspect approached the victim employee at the recycling center and pressed a handgun to his stomach, demanding money. The suspect took money from the victim's hand and opened the cash register to take an additional money prior to fleeing.
In all incidents the male was described as a "heavy-set" male Black subject armed with what appeared to be a black semi-auto handgun. The suspect was seen in at least two of the incidents entering the passenger-side of a gray SUV.
On Monday October 7th, 2019, at 11:00pm, the SAPD Gang Suppression Unit was patrolling the area of 1200 S. Bristol when they observed a gray Jeep SUV that matched the description of the vehicle involved in the robberies. The passenger in the vehicle matched the description of the suspect described in the above four robberies. A replica firearm was located in the vehicle. Both the driver and the passenger were booked at the Orange County Jail for robbery.
SAPD Detectives are working with Detectives from Garden Grove and Westminster Police Departments on possible related cases that occurred in their cities.
Suspect -1: Linsey Alvin Green (36) Rialto
Suspect -2: Derrick Stoeltin (34) Santa Ana