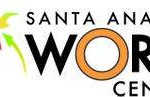 Have you been adversely affected by the COVID-19 Virus? Has your job been eliminated?
The Santa Ana Work Center wants you to know we care and we are here to help! We are assisting job seekers with getting back to work. You may be able to qualify for free job training, job search assistance and other additional services such as utilities and rental assistance.
If you are interested, please complete an application online at
www.santa-ana.org/work-center/application.
Applications are due by June 16, 2020. Should you need additional information, we can be reached at (714) 565-2600.
The Santa Ana Work Center wants to be your path to getting back to work and back on your feet.
Se Ofrecen Capacitación Laboral Gratuita y Ayuda en la Búsqueda de Empleo
¿Se ha visto afectado por el virus Covid-19? ¿Se ha eliminado su trabajo?
¡El Santa Ana WORK Center quiere que sepa que estamos aquí para ayudarle! Si usted califica, podemos proporcionarle capacitación laboral, ayuda para encontrar trabajo y otros servicios según sea necesario incluso asistencia de pago de servicios publicós y renta.
Si está interesado, complete una solicitud en línea en www.santa-ana.org/work-center/application.
Su solicitud deben completarse antes del 16 de Junio del 2020. Si necesita información adicional, puede comunicarse con nosotros al (714) 565-2600.
El Centro de trabajo de Santa Ana quiere ser su camino para volver al trabajo y ponerse de pie.