The O.C. Register asked four experts to analyze the results of this year's June Primary election, to sort out who did and didn't vote. The experts included our friend Scott Lay, the publisher of aroundthecapital.com.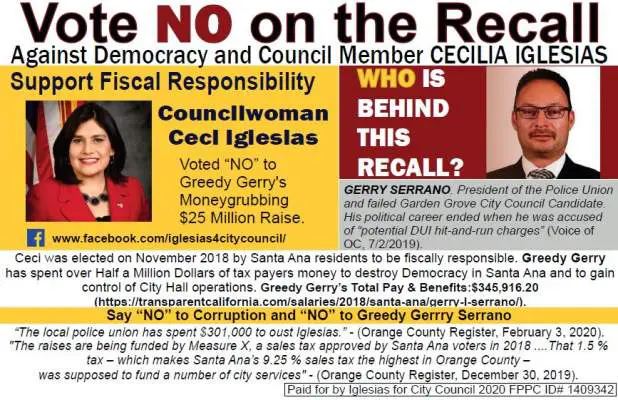 What they concluded was:
Isn't it time for Santa Ana to have a voice on the O.C. Board of Supervisors?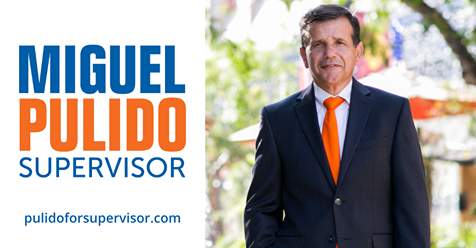 Paid for by Miguel A. Pulido for Supervisor 2020 (ID #1422663)
Rich, educated people vote more.
Independent voters are less likely to vote in primaries.
Seniors vote more.
Ethnicity can influence turnout. (ie. Latinos don't vote but Asians do)
If these trends continue through the November General Election then Democratic legislative candidates Jose Solorio and Sharon Quirk-Silva are in big trouble.
Advertisement
Is your employer a mess? Call Sasooness.
In the state of California for every 5 hours worked an employee must get a 30 minute, uninterrupted lunch break. For every 3 hours worked an employee must get an uninterrupted 10-minute rest break. Working over 8 hours in a day or 40 hours in a week is due overtime. Don't let your employer screw you! Give us a call at 323 746-8099.
En el estado de California por cada 5 horas de trabajo su patrón le debe permitir tener un receso de media hora sin interrupciones. Si trabaja más de 8 horas en un día o más de 40 horas de trabajo en una semana su patrón le debe pagar tiempo y medio. No deje que su patrón abuse de su trabajo. No importa que no tenga papeles. Usted tiene derechos. Llamenos al 323 746-8099.
Solorio in particular is facing an uphill battle as the district he is vying for, the 34th State Senate District, was gerrymandered in part by his opponent, OC Supervisor Janet Nguyen, and her allies.  The district went from leaning blue to leaning red and is now dominated by Vietnamese voters.  They are more educated and have higher incomes than their Latino counterparts and they vote very consistently.
To make matters worse for Solorio the City of Santa Ana, which makes up a good chunk of the 34th State Senate District, has a lot of senior voter and a lot of Decline to State voters.  He isn't going to be able to count on these groups much in November.
Quirk-Silva is facing some of these same issues over in the 65th Assembly District.  Her challenger, Young Kim, can count on the Asian vote in north Orange County and the Asian voters in that area are better educated and have higher incomes than their Latino counterparts.
To make matters worse for Quirk-Silva her district has a lot of young voters and they lean Democrat but don't vote.  The same goes for Solorio's district.
In short things are looking very tough for Solorio and Quirk-Silva.  And you know that the Republican voters are going to vote as they are peeved at how things are going here in California.   Will the Democrats stay home – again?