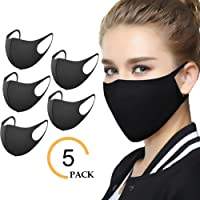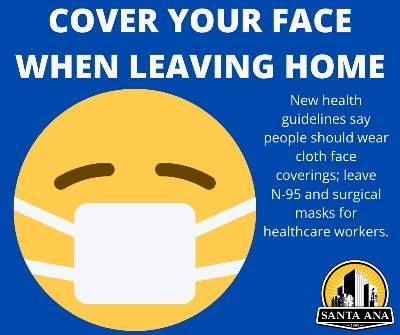 Recent guidance posted by the California Department of Public Health states Californians who must leave their homes to conduct essential activities should wear face coverings, if they feel comfortable doing so, and practice strict hand washing before and after touching and adjusting the covering.
Utilizing face coverings can help reduce infectious particles from those who could be infected, but are asymptomatic. It is not recommended for residents to use N-95 or surgical masks, which should be reserved for healthcare workers and first responders.
"Wearing a cloth face covering when leaving the house for essential activities may help reduce the spread of COVID-19 by residents who are positive but don't have any symptoms," said Dr. Nichole Quick, County Health Officer. "However, it's important for community members to remember that face coverings are not a replacement for prevention measures like social distancing and frequent hand washing, which continue to be the best way to protect yourself."
The best defense against COVID-19 is:
• Staying at home and physical distancing
• Washing hands frequently
• Avoiding touching eyes, nose and mouth with unwashed hands
• Avoiding being around sick people
• Staying home if you're sick
The CDPH defines face coverings as material such as cotton, silk or linen that covers the mouth and nose. Coverings can be homemade or improvised from everyday items such as scarfs, bandanas, T-shirts, sweatshirts or towels. For more information visit www.cdph.ca.gov.
For questions related to COVID-19, contact the Orange County COVID-19 Hotline at 1(833)426-6411, visit http://www.ochealthinfo.com/novelcoronavirus, or follow the HCA on Facebook (@ochealthinfo) and Twitter (@ochealth).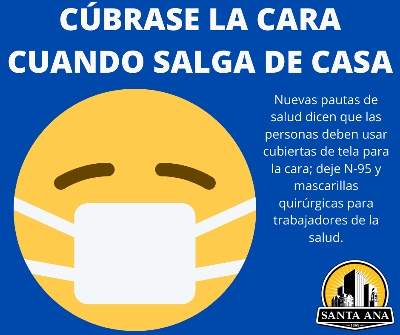 El Condado de Orange Seguirá las Pautas Estatales de California para usar Cubiertas para Proteger la Cara al Salir en Público
La reciente dirección publicada por el Departamento de Salud Pública de California (CDPH) establece que los Californianos que deben salirse de sus hogares para conducir actividades esenciales deberían de usar una cubierta para proteger la cara, si ellos se sienten cómodos al hacerlo, y practicar un lavado de manos estricto antes y después de tocar y ajustar la cubierta.
El uso de las cubiertas para la cara puede ayudar a reducir las partículas infecciosas de aquellos que podrían estar infectados, pero son asintomáticos. No se recomienda que los residentes usen máscaras quirúrgicas o de tipo N-95, que deberían ser reservadas para los trabajadores de la salud y socorristas.
"El uso de una tela que cubre la cara al salirse de la casa para realizar actividades esenciales puede ayudar a reducir la propagación del COVID-19 por parte de los residentes que son positivos, pero no tienen ningún síntoma," dijo la Dra. Nichole Quick, Oficial de Salud del Condado. "Sin embargo, es importante que los miembros de la comunidad recuerden que las cubiertas de cara no son un reemplazo para las medidas de prevención como el distanciamiento social y el lavado frecuente de manos, que siguen siendo la mejor manera de protegerse."
La mejor defensa contra el COVID-19 es:
• Quedarse en casa y el distanciarse físicamente
• Lavarse las manos frecuentemente
• Evitar tocarse los ojos, la nariz y la boca con las manos sin lavar
• Evitar estar cerca de personas enfermas
• Quedarse en casa si está enfermo
El CDPH define las cubiertas para la cara como material tal como algodón, seda o lino que cubre la boca y la nariz. Las cubiertas pueden ser caseras o improvisadas de artículos de uso diario como bufandas, pañuelos, camisas, sudaderas o toallas. Para más información visite www.cdph.ca.gov.
Para preguntas relacionadas con el COVID-19, comuníquese con línea directa de COVID-19 del Condado de Orange al 1(833)426-6411, visite a www.ochealthinfo.com/novelcoronavirus, o siga a HCA en Facebook (@ochealthinfo) y Twitter (@ochealth).
Para obtener actualizaciones y recursos de COVID-19 de la Ciudad de Santa Ana, visite www.santa-ana.org/covid19; siga @CityofSantaAna en Facebook, Instagram y Twitter; regístrese para recibir alertas por correo electrónico y mensajes de texto en Nixle.com; descargue la aplicación mySantaAna; y únete a Nextdoor.com para conectarse con los vecinos y recibir noticias de la ciudad.