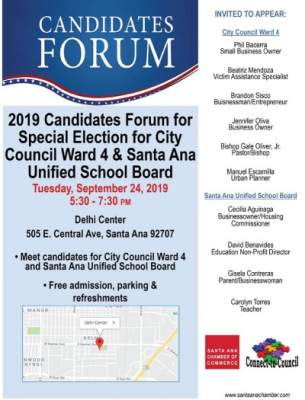 The Santa Ana Chamber of Commerce and Connect to Council are hosting a candidates forum for the upcoming Santa Ana City Council Ward 4 and SAUSD School Board election, on Sep. 24, at the Delhi Center, from 5:30 p.m. to 7:30 p.m. The Delhi Center is located at 505 E. Central Ave.
The Ward 4 City Council candidates include:
Phil Bacerra (D), a former Santa Ana Planning Commissioner who sued Reyna after the November election on the grounds that Reyna screwed up his campaign paperwork and never should have been allowed on the ballot. Phil was right!
Jennifer Oliva (D), a Santa Ana Arts and Culture Commissioner
Gale Oliver, Jr. (No Party Preference – NPP), a Baptist bishop
Brandon Sisco – Businessman
Manuel Escamilla – Urban Planner
The SAUSD School Board candidates include:
Attendees all have the opportunity to submit questions in advance.
You may do so here:
http://www.santaanachamber.org/form/view/17847
The City Council and SAUSD School Board elections will be held on Nov. 5.